I was just glancing through some of the news in the Informationweek website where I found this awesome news about Google owning thousands of unrelated domain names.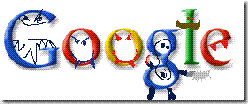 Apart from the most popular Google products and the newly launched Google sites,Google never stops.They have buyed thousands of domains just 20 days ago which are not funny but even weird and suprises me that Google owned them!
According to the Pingdom ,Google buyed these domain names to protect their brand, and in some cases to prevent typosquatting or similar (false) practices.Just have a look at these domain names owned by Google!
Domain with Misspellings and typos:
gewgol.com
glougle.com
goolgel.com
glugli.com
geggle.com
georgle.com
glogoo.com
gmale.com
Totally unrelated domains :
30dayfitness.com
bayareaburritos.com
donationcard.com
essentialmommy.com
greengardengifts.com
mariolovespasta.com
thesecretofburritos.com
Why this Google ?
1p0g0og1e.com
az-on-url-je.com
New extra google services?
google4kids.com
googlebackups.com
googleauction.com
googlebroadband.com
googlecasinogames.com
googlefamily.com
googlejokes.com
googlelovers.com
googlepersonals.com
Yes, Google is big
googlereligion.com
googlefaith.com
Google goes offline 🙂
googlegym.com
googledaycare.com
bankgoogle.com
googlepaperproducts.com
Google Geographicy :
googlenewyork.com
googleonthegoaldcoast.com
kuwaitgoogle.com
Hardcore Google
googlesex.com
googleporn.com
google-yahoo-porn.com
google-yahoo-sex.com
Google friends
googletimewarner.com
ebay-google.com
googlewarnerbros.com
Google,we are GOOGLE!
Showing the services
checkoutsucks.com
dejastinks.com
frooglesucks.com
fuckengoogle.com
gmailblows.com
gmailsucks.com
googlefools.com
googlemotherfucker.com
googlepoo.com
googlesucks.com
For those interested, here is a complete Excel file with all .com domain names that point to the Google DNS servers ns1.google.com-ns4.google.com.Source : Pingdom