Google web browser has very minimum option for customization as it is already built to suit the Internet users,if you have Google chrome browser downloaded on your PC then you will know that the browser has a smart address bar which also acts as search engine,this means you can type the website address with automatic url suggestion as well as search in search engine using the same bar.
When you are done with installation of Chrome,you will have a option to change the search engine and also to import the password,history and bookmarks from other browser (backup and restore the chrome profile).If you have skipped changing the search engine then Google chrome will have a default search engine set which is "Google.com".Also chrome can be empowered with firefox chrome addon/extension. If you are a user who uses other search engine like yahoo,MSN live search then here is a simple trick to change the default search engine.
Open your Chrome browser and using your mouse,right click on the address bar,this shows up various things like paste,paste and go and Edit search engine.

Click on Edit search engine and a dialog box will appear with information about the various default and other search engine available.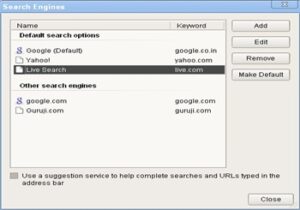 Click on Add or choose from the existing search engine and click on Make default.Alternately you can choose Yahoo,MSN live search engine and make is as default, also you can remove any search engine or add local search engine easily!