How many times have you searched for that particular message on your Gmail inbox and spent hours together digging into those hundreds and thousands of non spam emails for finding that message?
I did. Usually this used to be fun but not anymore, when you are short of time and trying to find the email which has been dumped somewhere then you are left with frustration! Gladly, here is one easy tip to find information and messages on Gmail quickly thanks to Gmail operators.
These Gmail Operators are keywords that are to be used on the Gmail search engine. Today, while I was searching for all the attachment files on Gmail (I am too lazy to download attachments) I found this useful Gmail operator.
Just use "has:attachment" keyword in your gmail search box (located in your Gmail inbox, on the top-left) and all the emails which has an file attached to it will be displayed. Simplifies my work for sure!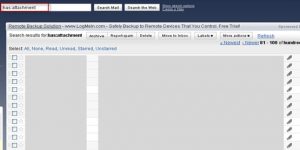 Another gmail operator I found out is "filename:*.doc" (This is my own tweak 
 ) which displayes all the .doc attachments from Gmail inbox. Pretty cool eh? Know any other operators to search attachments on Gmail? Let me know..