Toshiba already has its family or line of products with Camileo flash, and now has but added two more latest models. No family planning needed here! The two newest members of the family are Toshiba Camileo SX500 and Toshiba Camileo SX900. Both are about to be baptized in UK on July with a price of £200 each.
Ever since Toshiba has began its goal in producing flash memory-based devices two years ago, the company has nevertheless been making great leaps in the market of digital camcorders.
Toshiba is even manufacturing same memory gadgets for other business-related entities and therefore has been giving its more than fair share to the industry of Flash memory.
Nowadays, Toshiba has but created camcorders of high value which consumers have welcomed in open arms. There is not a single member of the Toshiba camcorder family thatconsumers have dubbed as 'black sheep' or 'prodigal son'.
Now with the two youngest family members both with 1080 pixels high resolution, the Camileo camcorder models SX900 and SX500 will not replace the X100 camcorder we now have but instead, the two youngsters will even enhance and complement it.
The two new camcorder models, SX900 and SX500 have an obvious slimmer bodies compared to the X100. The optics departments of the camcorders are even more worked out. The new camcorder models can shoot an almost minute 3 lux (a level much less that in a twilight) setting with low-light handling.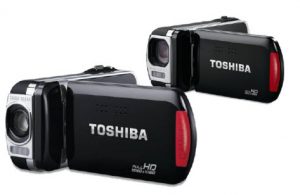 The maximum resolution for a video footage is 1920 by 1080 pixels with 30 frames a second. Moreover, shooting for 60 fps may be a possibility but only as interlaced video footage. The video recordings may then be transferred and stored to a different and separate removable media card. For these two new cams, both can handle a maximum of 64 GB SDHC media cards.
Model SX900 possess 9x of optical zooming and model SX500 has a 5x optical zoom, so as their names suggest. Both camera recorders are with 12x supplementary digital zoom enhancements.
The Toshiba Camileo may be described as camera recorders of videos but as a camera it can also do some still photo shooting. This is made possible by the 2.7in tilt-adjustable 230K screen for composition. Plus the camcorders are also equipped with image stabilizers, auto focus pointers, face recognition, adjustment tweaks of manual light utilization; plus the Toshiba cams have predominant color functions.