Unlocking cellphones brings in new unexplored features and in this post, I'll mention the procedure on how to unlock LG Neon Cell phone easily. Read all the steps carefully and implement them as suggested for unlocking LG Neon GT365 mobile phone.
How to unlock LG Neon GT364 Mobile Phone
First of all, you need to know the IMEI number of your LG neon device. To find the IMEI number of your LG neon cellphone, type *#06# and this will display the 15 digit output which must be noted down.
The reason you need to have your IMEI number noted down is because you will be contacting the LG Support team, who, in turn will provide you with an 16 digit unlock code. Note that the unlock codes are unique and they can be used on unique IMEI number only i.e, each unique IMEI number has an unique subsidy unclock code.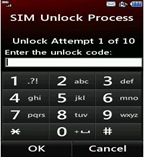 Once you've have the unlock code, half of the job is done. From your LG Neon GT365, type *#865625# and click on YES.
You will be presented with an screen to enter the 16 digit unlock code you received from the LG Neon support team. Reconfirm the unlock code once again and once the message Network Lock Deactivated appears, this means that you've completely unlocked LG Neon GT365 cell phone.
The benefit of unlocking LG Neon is that you can use that you'll be able to unlock the SIM. If the process doesn't work for you even after several attempts then it's time you let go of this method as this can lead to the consequence of permanently locking LG neon GT365.
Additional inputs were gathered from Mobile Slate.