Enabling flash plugin in Safari browser on Mac OS X Mountain Lion can be useful for several reasons — you can watch videos, play flash-based games, view animated websites, or fill flash-based online forms.
At the same time, many of us prefer not to use flash player plugin on Safari browser because, you know, Adobe's flash brings droves of problems with it. Some of the frequent complaints about flash are as follows:
Adobe flash plugin crashes Safari frequently.
Adobe flash plugin forces Safari to freeze and become unresponsive.
Adobe flash plugin takes up huge chuck of Mac's memory.
Note: There may exist security loopholes (remember the flashback trojans?) that can put your Mac system at risk, but don't worry too much about this –  the folks at Adobe are working continuously to fix flash player's security issues.
How can I block flash player on Safari 6.0?
There are many ways to get rid of Adobe flash player. One way is to download flash uninstaller to permanently delete flash player from your computer. You certainly don't want to do that, as flash is really useful when you are browsing the web.
The other solution, and the most preferred one, is to temporarily block flash player. When you do that, your slow Safari browser will be much more faster.
Here is how you can use Mac's Activity Monitor to temporarily disable flash plugin:
Step 1
Launch Safari browser.
Step 2
Visit any flash-based website — go to YouTube, or visit this page.
Step 3
From Spotlight, open Activity Monitor and look for "Flash Player (Safari Internet Plug-in)."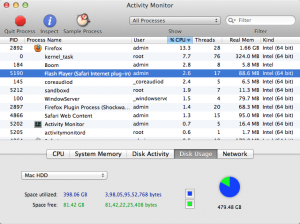 Step 4
After highlighting "Flash Player (Safari Internet Plug-in)," click the "Quit Process" button. Another window, like the one below, appears. Click "Quit."
This stops Safari's flash player plugin from running in the background. To get back the plugin, restart Safari.