For those who are hunting for an easy way to transfer songs, videos and sync files from your Mac's iTunes Library to your WP7 device, Windows Phone 7 Connector is what you need. This Mac-friendly app from Microsoft brings basic media sync capability, with iTunes and iPhone integration, right on your Mac machine.
With Windows Phone 7 Connector app, one can easily sync content between iTunes Library and WP7 device without having to work yourself into a sweat. The app is straightforward, easy-to-use and does exactly what you want: transferring of media files.
And because Zune software is unavailable on Mac, consider Windows Phone 7 Connector as the toned down version of Zune — which even manages to restore backup and gaily checks for software updates.
Download Windows Phone 7 Connector
The iTunes link page of the program can be found here — you can also search "Windows Phone 7 Connector" on the Mac App Store. The app gels in fine on both Mac OS X Snow Leopard and 10.7 Lion machine.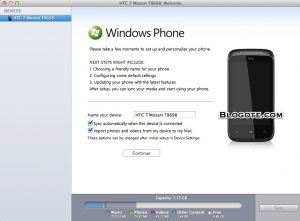 The major drawback of Windows Phone 7 Connector so far is that the app doesn't sync calendars and contacts. Also, as one would expect, Zune marketplace is not available.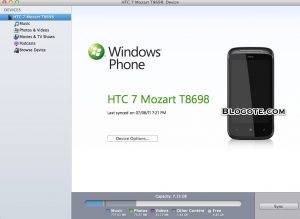 So, if you want to transfer a song, send a photo or sync any media files, Windows Phone 7 Connector is the best, and perhaps the only one of its kind, app available for the Mac OS X computers. You can also use Boot Camp software to perform sync but for a quick, easy way to initiate transferring of files, this is the app you need to use.
Windows Phone 7 Connector supports these phones: HTC 7 Mozart, HTC 7 Surround, HTC, HTC HD7, HTC 7 Pro, HTC 7 Trophy, Dell Venue Pro, Samsung Focus, Samsung Omnia 7, LG Optimus 7/7Q, LG Quantum, and the like.