Digsby used to be one of my favorite multi chat protocol client. But one of my friend recommend me to use Pidgin as it is supposed to be simple, easy to configure IM client. The plugins and less memory consumption, compared to digsby, made me switch to Pidgin.
Okay, Pidgin is definitely lite, but the default smileys are horrible. And then I couldn't find a option to add facebook account on Pidgin. However, I was able to find out ways to configure the smileys and also add facebook account on Pidgin using a plugin.
Configure Pidgin to Add Facebook Chat
The trick of using XMPP and adding your facebook profile name doesn't work anymore and throws in 503 error. The simplest solution, I'd say, is to download this file (Homepage). The file — Pidgin Facebook Chat is the only way to instantly add and chat with your facebook friends through Pidgin.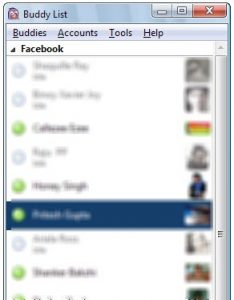 Once you execute the file, the plugin will automatically integrate facebook into your Pidgin. Make sure Pidgin is closed during this process. To add facebook chat feature: visit Manage account option from Pidgin panel – click on 'Add' and enter your facebook login details. That's it. No need to configure again!