Adobe this week has released an update for Adobe Photoshop (13.0.2) and Adobe illustrator CS6 (16.0.3), which is now available for Mac users. If you have purchased a genuine copy of Adobe's Creative Suite 6, then download the new updates by launching Adobe Application Manager.
Retina MacBook Pro owners will find this updates valuable, as Adobe has refined and revised Photoshop and illustrator specially for these notebooks.
Creative Cloud members will also get this upgraded version. Creative Cloud, if you remember, is a subscription-based service from Adobe that brings all the favorite Adobe CS6 apps to the cloud. Anyone can access the apps by paying a fixed monthly or annual fee. It's already a success — over a million users have joined Creative Cloud within one year.
Mac OS X users can upgrade Photoshop and illustrator by following these two steps:
In Photoshop or Illustrator, choose Help > Updates
The Adobe Application Manager will launch. Select Adobe Photoshop or Adobe Illustrator CS6 and choose "Update."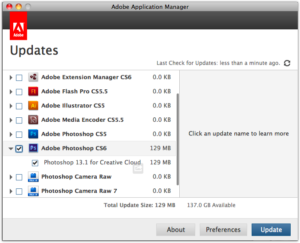 Problem Updating Adobe CS6?
You may face a problem or two while trying to update. For instance, the CS6 update may fail during the download, or the update manager may not show any new updates. In any case, the first step we recommend you is to check the "Adobe Application Manager."
Make sure that Adobe Application Manager is up-to-date — visit this page and download the latest version. Relaunch the manager and the updates should be visible.
Manually Download Photoshop 13.0.2, illustrator 16.0.3 Update
You can also download the update files off the Adobe's server. Note that error message like "Update Failed – Update could not be applied" may appear on odd occasion, which can be resolved by reinstalling Photoshop or illustrator. Also note that reinstalling these programs will convert them into trial version, so you have to apply the serial keys once again.
Adobe Photoshop 13.0.2:
The Adobe Photoshop 13.0.2 update enables support for new HiDPI displays on the Macintosh platform for a dramatic improvement in image fidelity and resolution. This update is applicable to all language versions of Photoshop CS6. For Mac OS X v10.6 64-bit – 10.8 64-bit.
Download Photoshop 13.0.2 update
Adobe illustrator 16.0.3 update:
The Adobe Illustrator 16.0.3 update adds support for HiDPI Retina Displays and provides several other stability fixes.
Download illustrator 16.0.3 update
Have you downloaded the updates yet? Any problems? Share your thoughts through the comment section below!