If your workstation resembles the interior of the command center from the film Matrix, it may be because there are too many keyboards and mouse set up for each PC you are running! But relax because now you can easily use just one mouse and keyboard to control any number of PC's with the new Input Director.
So, what's it all about? Well, it's a free app which works with all Windows operating systems. You can decide which system is to receive the input by hotkeys or by moving the cursor. The switch from one screen to the other is not unlike what you may have experienced in a multi-monitor setup.
The installation process is pretty easy and you can easily start working by placing the monitors side by side. Arrange an equivalent monitor setup on screen by dragging and dropping the monitor-icons onto the monitor-grid. Once you are done, lock all computers and you are good to go.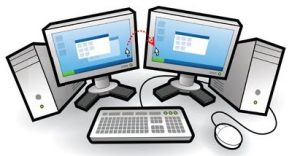 Some other handy features of this new input control app are:
A shared clipboard which allows you to copy data from one PC to paste it onto another PC in seconds. The clipboard can be accessed for cut, copy and paste actions from all PC's on the grid.
You can synchronize wallpapers across all PC's on the input grid.
Syncing the shutdown of all PC's is also possible and you can even decide which PC is to hibernate and which is to go on standby.
There are also some transition features in this app which allow you to easily shift between systems. For example, ripples are created near the cursor, after you switch over to a new system to allow your eyes to follow the change properly.
Moreover, a set of keys can also be set up as hotkeys for transition. This means that when you press these keys or a combination of them you can switch between monitors left or right.
One of the most desirable features in Windows apps is that relating to security. The Input Director app has lots of security features which mean that:
You can encrypt network data between the grid computers with a powerful 256 bit key.
Lock the Input director setup, so that only you have admin access to it.
Set up a master system which will control all other systems.
If you think your work-desk is too cluttered then download Input Director (It's free!) which is just the app you need to smarten up your work!