The current version of Samsung's popular program Kies has been through an update recently. Although Samsung Kies is said to work on any latest version of Mac OS X, for some unknown reason this multimedia management tool fails to keep up with its promise when it comes to Mac OS X Lion.
Apparently, Kies doesn't work on Mac OS X 10.7 Lion.
When one of my Twitter friend was exploring for ways to install this bad boy on his MacBook Pro, we both decided to hunt for a solution to make Kies work on our Mac OS X Lion machines.
Download Kies 1.0 For Mac OS X Lion
Thanks to this hero, updating Kies on Mac OS X Lion was a breeze. All we had to do was to install the older version of Samsung Kies and then update to the latest version, Kies 2.0. I'll cut to the chase and explain you the two-step process to download and have a working Samsung Kies installed on your Mac machine:
1. Download the older version of Kies by visiting this link. This is Kies 1.0.
2. You'll be able to run the older version on your Mac. Install Kies 1.0, and launch the program. From the menu go to "Preference" –> "Update" and update to the latest version of Kies.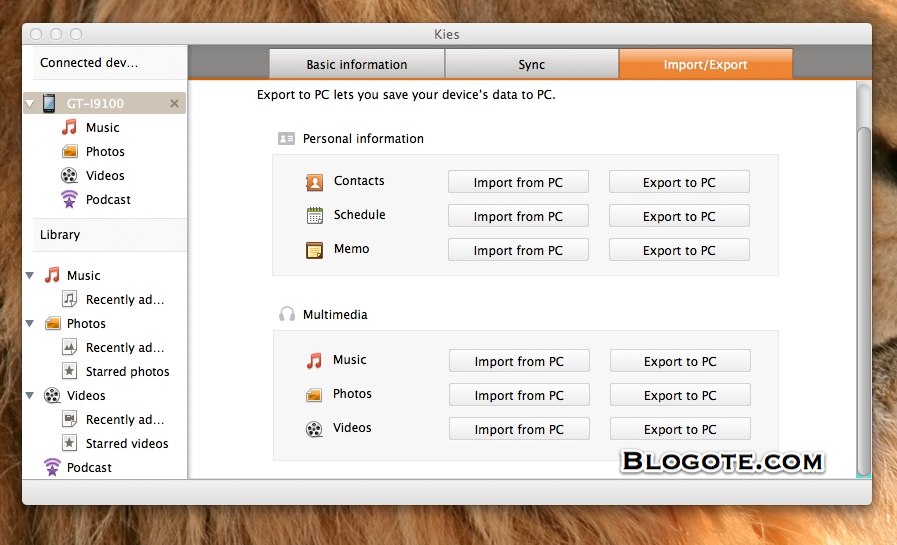 Now you can easily connect your Samsung Galaxy Tab, Galaxy S phone to your iMac, MacBook Pro, or MacBook Air to download, transfer and manage your data. I hope this helps everyone out there who are struggling to make Kies work on their machine.
If you are using Mac operating system other than Lion 10.7, check out our this guide: How to Get Samsung Kies on any Mac!