Live. Streaming. Video. You read that right, but don't get excited just yet because, you know, there's a catch. Read on to find out. Update: Please check Update 3.
Take any Apple event that has happened in the last few years, and you will know that Apple has a thing with live streaming  — they don't do it. What Apple does is invite a handful of prominent journalists to their press conferences, then some of these journalists will start live blogging, as you probably may have seen it during the iPhone 5 event.
But today's iPad Mini event held at California Theatre is an exception, which means Apple will broadcast the event live. Yes, that's a big news!
What's The Catch?
It goes without saying that Apple will not be able to stream live video of iPad Mini on every TV that's out there. The truth is, you must have an Apple TV to watch the event.
First noted by MacRumors, Apple had added a new "Apple Events" icon to the Apple TV. The channel will broadcast iPad Mini event live. One can also comfortably watch videos of previous Apple events — this includes clips on iPhone 5 announcement, the 2012 Worldwide Developers Conference, and the launch of the New iPad.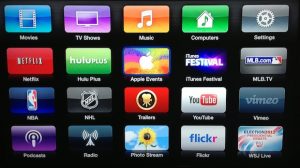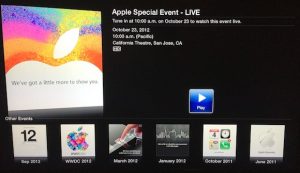 Don't have an Apple TV? Don't run to the Apple Store to buy an Apple TV right now, as there are many other ways to follow the event. Check the blogs given in this article  — they are fairly great for catching bits and pieces of today's event.
Update 1: Some sites offering live coverage of today's event:
Update 2: CNET's Molly Wood, Brian Tong and Donald Bell will be broadcasting a video in one hour. These anchors will cover everything about iPad Mini, but don't expect them to live stream Apple's event. Another live video worth watching: Twit TV.
Update 3: A page titled "Apple Special Events October 2012″ on Apple's website mentions that today's event will be broadcasted live. You may want to head over to this link to view the live event on your browser. Note that live streaming video requires Safari 4 or later on Mac OS X v10.6 or later; Safari on iOS 4.2 or later.