After months of speculations and sneak peeks, the latest Internet Explorer 9 has just been launched officially. The first beta of the Microsoft's IE9 browser can now be downloaded and this is your chance to take a look at the new interface which has had a series of developer previews in the past few weeks.
At first look you should notice the change quite easily. There is now a single bar for entering the URL and managing tabs. Moreover the browser is integrated closely with Windows 7.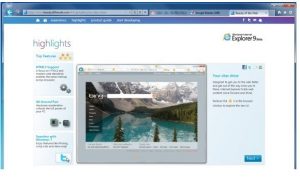 This is a snappy browser- make no mistake about it! If you have always been disappointed with how poorly the Internet Explorer fares against the Firefox and Chrome, you may be in for a pleasant surprise, finally. The much talked-up hardware acceleration and new JavaScript engine seems to have made the difference in this browser.
Does the latest Internet Explorer 9 actually match up to the Google Chrome and Firefox browser?
Well, benchmark tests are yet to be done, but when you use it- the hands on feel is almost the same.
The unification of the URL and search box and the appearance of dialog boxes on the bottom of the screen, are some steps that have been taken to give the websites more screen real estate. Microsoft deserves an applaud for this new approach to enhancing the user's browsing experience. You can also pin websites to the taskbar now.
One more thing: No IE9 for Windows XP
It a slight dampener that the IE9 is not supported on Windows XP right now and it is highly unlikely that the final version will either. So, you must upgrade to Windows 7 if you plan to use this browser.