This week, Amazon introduced a new store centered around the Mac OS platform called the Mac Download Store. This new service is a compelling rival against the Apple's indigenous Mac App Store that conveniently separates softwares from video games. And to celebrate the launch of the store, Amazon is offering some of the elite Mac products at a discounted price, including Office for Mac 2011.
Apple's iWork is known for editing documents seamlessly. On the other hand, Microsoft's Office suite is known for more than just editing documents: Office for Mac 2011 is a powerful, feature-rich application suite which comes as a boon for word-processing junkies on the Mac OS platform.
Buy Office Mac 2011 From Amazon
The products rejected on the Mac App Store finds a place on Amazon's Mac Download Store. If you have noticed, Microsoft Office collection suite is not available in the Mac App Store. However, the good news is, Amazon offers Microsoft Office 2011 for Student and Business — that and much more at an unbeatable price tag.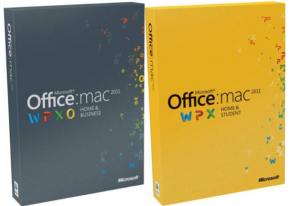 How Cheap is Office for Mac 2011 on Amazon?
On the Microsoft website, Office for Mac Home and Student 2011 (3 Licenses) is available at $149.99; Amazon offers the same product priced at $114.49 — Click here to visit Amazon.
If you are planning to buy Office Mac Home and Business 2011 edition, then check out the deal at Amazon that offers the suite at $202; the original boxed version is available on Microsoft Store at $279. Click here to get this product.
And there's more — Click the "Buy and download" button, and enter the coupon code SAVE5MAC in the "Gift Cards and Promotions" box to get $5 off from the price tag (valid till June 1, 2011).
On Amazon, Mac Office application suite will be bundled with the serial number. Additionally, Amazon offers future download tied to your Amazon account. This is useful because if you have deleted the file, or if you have migrated to a new Mac machine, then re-downloading the purchased apps is easier.