There are companies innovating and building products that could possibly bridge the gap between tech titans like Apple and Google, who always seem to have a growing rivalry against each other. BlueStacks is a startup offering a unique solution for users on different platforms. They have successfully brought Android applications on Windows through its App Player and today, BlueStacks is bringing this program to Mac. The beta version of this app is available exclusively for iMac, MacBook Pro, and other Apple devices.
Over 75000 games and apps from Google Play store can be accessed on your Mac machine through BlueStacks. The numbers have increased since BlueStacks first launched in June this year, where the alpha version could run only a few apps like Fruit Ninja and Pulse.
BlueStacks is simple and powerful. It can run graphics-intensive games and apps on Macs. And for Android developers using Mac, BlueStacks is a heaven-sent program. They don't have to port or modify apps on their Mac — both testing and running apps without downloading additional plugins of extension is possible through BlueStacks' App Player.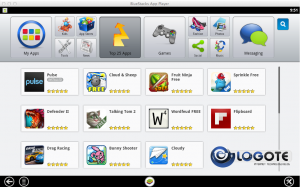 The Mac release of BlueStacks App Player offers popular apps — including Angry Birds, Fruit Ninja, Temple Run, Evernote, etc. Android smartphone users can also take advantage of the "Cloud Connect" app to sync their existing apps.

Download the Mac version of BlueStacks from the link given below:
Sized at 112MB, BlueStack runs flawlessly on the iMac (Mountain Lion 10.8 OS). There's no option to run the application in full-screen though, but we can live with that. After playing Fruit Ninja and using Talking Tom 2, we were truly impressed. News is that we can also initiate in-app purchases through BlueStacks App Player — this way, developers need not share their revenue with Apple or Google.
Adoption of BlueStacks on Windows PC has been remarkable. Over 4 million Windows users have downloaded and used BlueStacks App Player on their machine. The numbers will only grow with the release of Mac version.
Have you downloaded BlueStacks on your Mac yet? How was your experience so far? Let us know through the comment section below!