Hangouts on Air is Google's new feature that enables you to broadcast your live video chat on YouTube. Previously Google Plus users had the ability to share Youtube videos on the hangout but now they can also broadcast live hangouts on YouTube.
After the end of your hangout, the video will be automatically uploaded to your YouTube account. The whole hangout video will also be available on your Google+ post.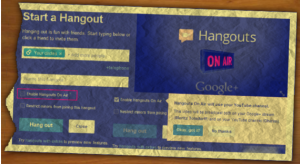 Everyone can watch your live video hangouts, but this is possible only if you tick the option "Enable Hangouts On Air." You can, of course, keep the hangout private.
Benefits of Google+ Hangouts on Air

Broadcast publicly. Now youu can broadcast your live hangout — from the Google+ stream, your YouTube channel or your website — to the entire world.
See how many viewers you've got. During your live webcam broadcast, you can look inside the hangout to see how many people are watching live.
Record and re-share. Once you're off the air, we'll upload a public recording to your YouTube channel, and to your original Google+ post. This way it's easy to share and discuss your broadcast after it's over.
Enable Webcam Hangout on Google Plus
Just start a hangout as usual; invite people on your Google Plus account to join the video hangout, but you have to make sure to Enable Hangouts On Air before you hit the Hang out button.
Only the host who starts the hangout will be able to invite people to join the live hangout event, although anyone can watch the live or recorded version on YouTube at a later point of time.