Ardent owners of iPhone and iPad, and the fans of jailbreaking community, here's a good news for you: iPhone hackers are working relentlessly on the next jailbreak for your A5 processor powered Apple devices which includes iPhone 4S and iPad 2.
The elite iPhone hackers are busy working, scrutinizing, and stabilizing the untethered jailbreak, which is said to happen in a week, and for the current scenario it makes complete sense for you to update your iPhone 4S and iPad 2 device to the latest iOS 5.0.1.
Why should I upgrade my iPhone to iOS 5.0.1 firmware? 
If you have followed and observed the jailbreaking scene this week, you will know it's safe to "upgrade your [iPhone] 4S and iPad 2 to 5.0.1," says Pod2G on Twitter.
Also, updating to iOS 5.0.1 has its own benefits. This iOS update addresses and fixes the severe battery-drainage issue. Then there is an improvement in the voice recognition coupled with security fixes here and there.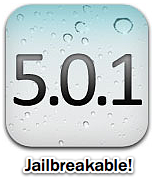 We have seen this numerous times — iPhone hackers have a tremendous record of jailbreaking every Apple device. As you already know, untethered Jailbreak for iOS 5.0.1 devices has been released for all but iPhone 4S and iPad 2.
Now it is safe to assume that progress has been made to jailbreak iPhone 4S and iPad 2.
After Apple releases the iOS 5.1, upgrading to 5.0.1 can be a demanding task. If you upgrade your device right way, then all you have to do is wait — wait for the untethered iOS 5.0.1 jailbreak release.