Flapping its wings in the tablet universe is the Notion Ink's new Adam tablet. We have already seen the unboxing pics of the device that has taken the market by storm during its pre-order launch. But do you know the pros and cons of the Adam tablet?
I've to admit, when the tablet first came out in action, it was nothing short of magical. The 10 inch Pixel Qi display screen, Tegra processor, auto-focus camera, 1GB RAM and the Eden UI looked almost flawless. This is the tablet for which I decided to jump in with both feet and learned the ins and outs — as I couldn't buy the Adam tablet during the first pre-order.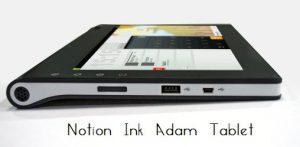 Now that the first batch of reviews are out on the Notion Ink fans website, I've come up with the list of pros and cons of the Adam tablet. The list is in no way complete, but this should be a fairly good start if you are planning to buy Adam tablet.
Pros of Notion Ink Adam Tablet:
The tablet has been designed ergonomically and feels convenient to carry around, thanks to the evenly distributed weight.
Notion Ink Adam tablet has a great battery, in fact, much better battery life when compared with the rest of the tablets.
The build quality of the tablet is solid. The bezel on the top of the Adam tablet is an added bonus.
The speakers of the Adam tablet is said to deliver a very good sound quality.
No doubt that Adam tablet has plethora of features under its hood, and the modest pricing makes it the unique selling point of the device.
Cons of Notion Ink Adam Tablet:
The Eden UI appears to be sluggish, although this is said to be fixed in the future updates.
The quality of the earphones are extremely poor.
The 3.2MP auto-focus camera delivers grainy image output.
The panels doesn't work smoothly — although this should be fixed during the next update.
If you have used swype keyword previously, then the Notion Ink's keyboard may not appeal to you.
The buttons of the Adam tablet doesn't sport a backlight, which means you have to budge your way through to find the right button in the dark.
YouTube HD videos — 720p and 1080p — cannot be played on the Adam.
While viewing gallery images, the color appears to be washed out.
Quick Office tool crashes when you load files/documents of bigger size, perhaps the processor is not able to handle the load.
Most of the NI owners have switched to the Dolphin HD or the Opera browser, as the Adam's native browser is buggy.
I know it is too early to jump to any conclusion, but the tablet failed to live up to its expectations. Hopefully, with the new software updates, the Notion Ink Adam tablet will gain the much-needed momentum.