Unreal Tournament 3 is a heavily engaged shooting game with compelling graphics and distinctive levels making it as an popular first-person shooting game among the gamers. Though the full version of Unreal tournament isn't available for free, we do have something to offer, a way to play online version of Unreal Tournament for free and yes it's full version but for a limited period.
Here, with the use of Steam client you can play unreal tournament 3 completely free for a limited time.
If you haven't played Unreal Tournament 3 yet then you should try out (Note that you should have Steam client installed on your machine which is free), the game contains various levels of death-match, multiplayer features so you can go on a killing spree. Few pics of the gameplay..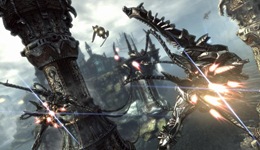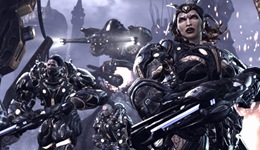 This online Unreal Tournament 3 game is available with full version credit thanks to 'Steam' who also supplied free download of Counter Strike 1.6.
Play Unreal Tournament 3 Online
According to the official steam website, you can play unreal tournament only till this weekend. I'll pull down the links once the game offer is expired.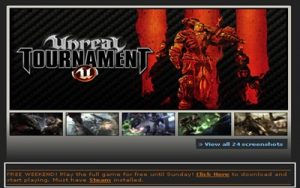 Now quickly head over to this link or here (works only if you have installed steam client) and download Unreal tournament game to play it online. Note that the offer is limited but you can play the full version of UT3. So hurry up and grab your copy!