Last Updated on July 1, 2021 by James Betterson
Here is a simple service for blog owners or readers to convert the RSS feeds into Adobe PDF file and receive them in your Email inbox for free. Such service is provided by Tabbloid which requires no sign up and can be used by any Internet user to receive RSS feed updates of their favorite blog in the form of PDF files which can be downloaded to your hard disk.
Here is how Blogote PDF RSS feeds will  look when you subscribe via Tabbloid.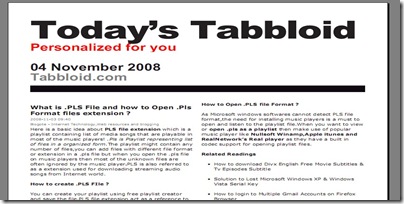 The process of receiving PDF file of the RSS Feeds is quite simple,visit Tabbloid and enter the blog feed url ( Here is our Feed URL http://feeds.feedburner.com/blogote 😀 ) which you want to subscribe for,now enter your e-mail address and set a custom time,date so that tabloid will convert the existing RSS atom feeds of any blog in PDF format and send you the PDF feeds at the given time! This service can be pretty useful at times as it will help you save articles in the form of portable document which can be used for offline viewing 😛