Do you feel like there is more potential buried in your business's data but don't know how to unlock it? Are you struggling to show the value of data analytics to executives?
Our answer for you is Power BI. The business intelligence and analysis you can gather from Power BI can give you the information you need. This will help you make decisions faster and more accurately.
Navigating the vast capabilities of Power BI can be overwhelming, especially for those new to the tool.
For a quick beginner's guide to learning Power BI's features and capabilities, be sure to read the article below.
If you're looking for a more hands-on and step by step training on how to fully use the tool, check this introduction to Power BI course.
What Is Power BI and Why Should You Use It?
Power BI is a robust tool from Microsoft designed to help you make sense of large amounts of data in a snap. That insight is then turned into stunning visuals that tell stories about your data.
This tool is particularly useful for businesses because it allows them to streamline and organize their data. They can access sales figures, customer feedback, and more in one interactive dashboard. They can then explore trends and get actionable insights into improving financial performance.
Power BI also helps organizations by allowing them to share dashboards securely with partners or customers. Additionally, Power BI users can use natural language query (NLQ) technology. This technology allows anyone to ask questions using normal language like "When was our peak sales month?"
This makes Power BI versatile. Both beginners and experts can use it to build custom powerful data visualizations. And it does not require prior knowledge of coding or software development. With minimal effort spent on setup time, organizations now have access to real-time analytics.
Setting Up A Power BI Account
The first step when getting started with Power BI course is to create a free account. You'll need a Microsoft Power BI-supported email address. And then you can set up your account and begin exploring data in minutes.
Once you created an account and activated it, you can access the Power BI Dashboard. It includes pre-built visualizations of existing datasets. You can also create your own custom visuals to go deeper into the details.
You'll have access to the wide range of features Power BI has to offer, such as data blending from multiple sources. It also allows collaborations with colleagues using the cloud-based sharing capability. To get more out of Power BI, like predictive analysis, you could sign up for a paid subscription.
Whether you opt for a free or paid subscription for Power BI, setting up your Power BI account opens up an enormous wealth of information. This gives you business intelligence that would otherwise be unattainable.
Connecting to Data Sources and Importing Your Data into Power BI
With Power BI, you can bring in a variety of supported data sources from both databases and files, no matter where they're located.
To connect to a data source with Power BI, select Get Data from the Home tab. You'll then choose the type of connection you want. It could be an Access database, SQL server database, or Excel file. Then you enter your credentials into the Data Source Settings window. It will take care of all the details for you.
You can easily query and explore your data with Power BI. Q&A Explorer and Quick Insights enable natural language queries to uncover accurate insights. Smart Narratives and Relationships Viewer help understand relationships between columns for further analysis. Insights from artificial intelligence are also available to uncover patterns in large datasets.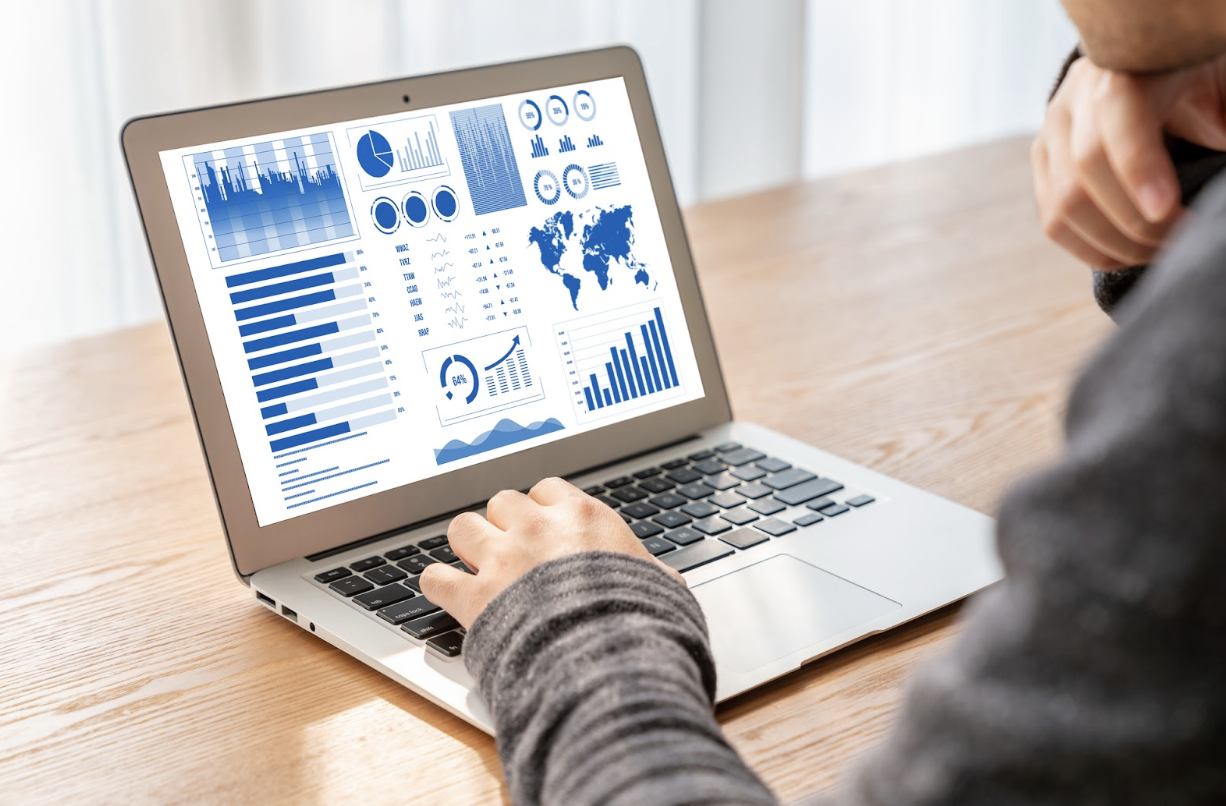 Visualizing Your Data with Charts, Graphs, and Other Visuals
When visualizing your data with Power BI, it's important to use effective visuals. Instead of dumping a table of information on your viewers, you'll want to create meaningful charts and graphs that are easy to understand.
The first step is to decide what type of visuals make the most sense for representing your data. Consider which chart types best portray the story you want to tell. It could be line charts for showing trends or bar graphs to show relationships between different elements in your dataset. You can also add visuals like maps or timelines to give context and depth to the analysis.
Once you've chosen the right visuals for your data set, it's time to start customizing them so they better express the meaning in your dataset.
Power BI has an impressive range of options for customizing the look and feel of each visual. You can manipulate an individual data series with advanced formatting options. You can also add animation effects that change over time when users interact with the dashboard.
Tips for Getting Started with Using Power BI Effectively
Starting off with Power BI can be a daunting task. Here are some tips for getting started and effectively using Power BI:
Have a goal in mind and determine how you want to use the data gathered from Power BI. What do you want to gain from the insights that you find?

Start by familiarizing yourself with Microsoft's Power Query Editor (M Query). This will help understand how different data sets can interact.

Organize your data so that it's easier to work with in Power BI. Make sure all your labels are straightforward. Use color coding for particular datasets or labels if possible.

Learn about the visualizations available within Power BI. Examples are graphs and charts, including what data each format works best with and when to use them.

Develop a talent for asking relevant questions of the source data. This will help guide decision making down the line about investments or marketing strategies. This way, you can maximize profits while reducing risk as much as possible.
Conclusion
Power BI is a powerful tool for harnessing your data and bringing it to life in unique ways. With its easy-to-use visualizations and dashboards, anyone can analyze their data, no matter how much or how little. So if you're looking for a way to unlock the power of your data and create something special, learning Power BI is the place to start!
TL;DR
Power BI is an analytics tool from Microsoft that makes it easy to connect to, query, and explore data sources. It has natural language query tools for uncovering insights, as well as options for customizing visuals. Getting started with Power BI can be intimidating. But learning M Query, organizing your data, and understanding different visualizations will help you make the most of the tool.