For those who are into jailbreaking their Apple device might have a hard time in backing up, restoring the Cydia apps and Cydia packages, especially the first-timer, who will be confused on how to backup and restore apps the right way.
Whether it is the iPhone (4, 3GS, 3G), iPad or iPod touch (4, 3G, 2G) that you are jailbreaking, you should be prepped to note down the installed apps and once the jailbreaking process is successful, you will have to re-download these apps again, right? AptBackup makes life easier for you and the device by backing up every single Cydia app and Cydia packages. The best part: you can restore them anytime.
The app is crafted to backup as well as restore all the apps and packages. All you need to do is to download Aptbackup from Cydia and tap on either the "backup" or "restore" button. Fire up your Cydia, go to Search and search for "Aptbackup." Once downloaded, open the app by navigating through your home-screen and choose to backup or restore your app.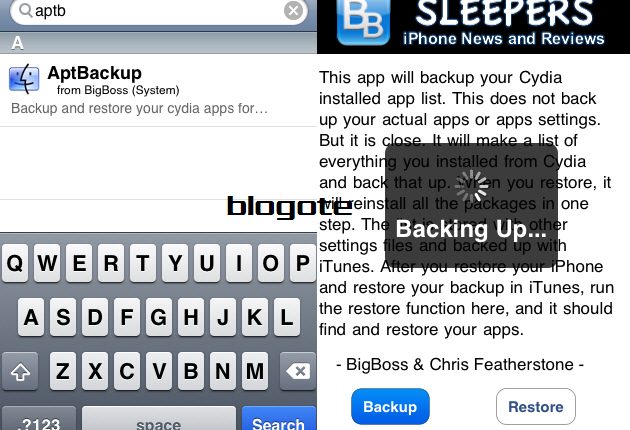 However, you should know that AptBackup will only backup your Cydia installed app list, not the actual apps. When you are restoring, all the apps are re-downloaded from the Cydia. Also, restoring backup in iTunes is possible by using the "restore" button. All the apps are sync on your iPhone, iPod touch and iPad, instantly.
Overall, Aptbackup is a great way to backup the list of Cydia apps and restore them at any point of time. Try it — it's free!