It looks like live video is going to have a big finish to the year, because Justin.tv has just released an updated app that lets you record and stream live video on the iPhone3GS and iPhone 4. This means that no matter where you are, you can share whatever is going on around you with other on the Web, in real time, over 3G or Wi-Fi with the help of the app.
Even live broadcasts from EDGE connections are supported by this updated app. Because of the fact, that hardware encoding is used to record and transmit video, both the video and audio quality is awesome.
This app is proof of the fact that Justin.tv realizes the need to take their video streaming services on the mobile platform. Their Android app, which is just two weeks old, has already given them 20% of their total broadcasting population!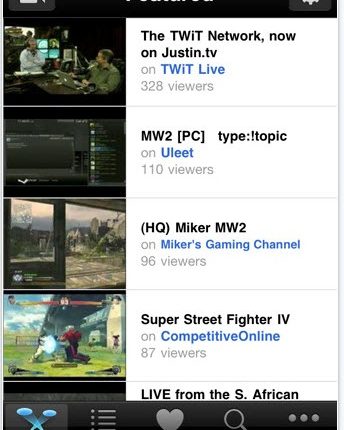 Wondering how you can use this app? Well, it is pretty simple and you don't even need to log in via the main website. You can sign-up or sign-in directly through the app. You can then view and share content and leave your comments about various videos.
What's new with Justin.tv app
The best part is that you can now start broadcasting in no time, with your Apple device. The broadcasting interface has a big red button; push it and you are streaming online. You can chat with friends in real time within the application, while you are broadcasting! If you switch between EDGE, Wi-Fi and 3G networks the video quality will be adjusted accordingly.
Both the front and rear cameras of the iPhone 4 are supported, but you cannot switch between them while broadcasting. If you wish to change cameras you have to start a new clip. Whatever you broadcast is saved by default for viewing later.
You also get push notifications when you are being followed live while broadcasting and you can also broadcast or share on Facebook and Twitter.
Download Justin.tv App For iPhone 3GS and iPhone 4
While the Justin.tv app may have little to offer as far as novelty is concerned, its quality sets it apart from the rest. The iOS is good enough and the iPhone 4 (and iPhone 3GS) has enough hardware capability to render high quality video in live mode and Justin.tv has made good use of that. The bit-rate on Wi-Fi is excellent even though the resolution is only 320×240.
This app should have a real impact on the future of live video on the mobile platform. Have you tried it yet?