How to Delete History in Firefox Browser
I have been a Mozilla Firefox browser user for more than 3 years now, on both Windows and Mac. Deleting history from Firefox is a regular affair for me, and I'd like to call myself an "expert" in this field.
There are several ways for deleting Firefox history on your computer. Use the Table of Contents given below to jump around the content.
Table of Contents
1. View Entire Firefox History
2. Delete Firefox History Manually

2.1. Manually Clear Firefox Browsing History
2.2. Search and Erase Firefox History & Bookmarks
2.3. Deleting Specific URLs From Firefox History

3. Delete Firefox History Using Addons

3.1. Delete Site History
3.2. Form History Control
3.3. Precise Clear History
3.4. Clear Form History
3.5. History Button

 Delete Firefox History Folder and Files
1. View Entire Firefox History
You can look up for the previously visited websites and webpages on your Firefox browser by looking into the History menu. Launch Firefox browser, then go to History and Show All History.

This will display all the websites you have visited today, yesterday, last 7 days ago, previous month, and so on. You can also save the history of your browsing data — all the visited URLs, that is — in case you need a backup for future.
2. Delete Firefox History Manually
2.1. Manually Clear Firefox Browsing History
Follow the steps given below to delete the entire Firefox browsing history and browsing data manually. This is one of the easiest, and probably the best, way to erase the whole history of URLs.
Step 1
Launch your Firefox browser.
Step 2
Go to Tools menu. Here you will find various options.

Step 3
Click on Clear Recent History…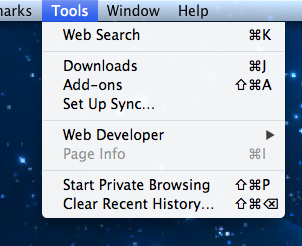 Step 4
A new Clear Recent History window appears. Select the time range to clear your browsing data.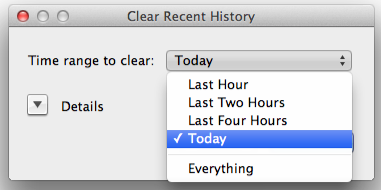 You can also click on Details to find more options. Here, you can check or uncheck multiple boxes, such as: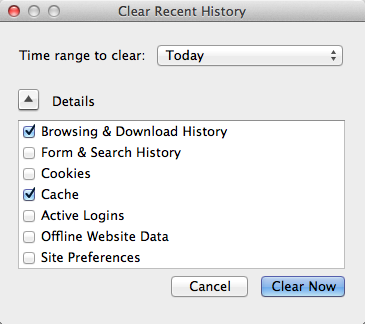 Browsing & Download History — Deletes all the website URLs you have visited and files you have downloaded.
Form & Search History — Erases text typed in forms and searches executed in search engine like Google.
Cookies — Permanently removes website cookies.
Cache — Cached webpages are deleted.
Active Logins — Any logged in session is cleared.
Offline Website Data — Any offline data stored by a website through Firefox browser is eliminated.
Site Preferences — If you have configured your preference for a particular site, check this box to remove such preferences.
2.2. Search and Delete History & Bookmarks
You can delete most visited websites, recently visited sites and sort sites visited by date by navigating to View -> Sidebar -> History. This brings a panel on the left-side of Firefox.
Here, you will notice a button called View next to the search box.

It's a drop-down menu when clicked brings several options. You can also search for a particular term in the search box, and delete URLs using the Delete button on your keyboard.
2.3 Delete Specific URLs From Firefox History
If you don't want to delete the entire browsing history but only  a single URL, then follow this three-step process:
Step 1
Type the website or webpage name in the address bar. Firefox will automatically populate relevant URLs.
Step 2
Highlight the URL you'd like to delete. You can do this by using the up and down arrow key.

I have decided to erase https://blogote.com/tag/pdf-format/
Step 3
Hit Shift+delete to completely delete that URL from the history.
3. Delete Firefox History Using Addons
Using addons (also called as add-ons or plugins) on Firefox can extend the functionality of your Firefox browser. Below you will find some of the popular extensions to install on Firefox for removing older and current browsing history.
3.1. Delete Site History
Saved cookies, passwords and URLs of a particular website can be removed from the Firefox history using Delete Site History addon. This addon, once installed, brings a new menu called "Delete History of This Site" when you open the History window.
3.2. Form History Control
A popular Firefox add-on to view, manage, and erase form data from the browsing history. All the text you have typed in any forms — including in search engines like Google and Yahoo! — can be deleted with this sophisticated addon.
3.3. Precise Clear History
Precise Clear History addon extends the existing functionality of the default "Clear Recent History" window. As the name says, you can do selective history deletion, meaning you can select start and end date for clearing history.
Download Precise Clear History
3.4. Clear Form History
Whenever you type something in a text box and hit the enter button, the URL is saved in Firefox history. This addon erases the such saved text-field details. An easy way to delete saved text from all kinds of forms.
This Firefox addon adds a button in the Firefox toolbar to quickly clear recent history. Simple and easy-to-use addon.
Looking to erase history of a different browser? Go back to our "deleting browser history" page to find out if your browser is listed.