Apple kicking Google Maps out of iOS 6 has done more good than harm for us iOS users. First, this has forced  Google to come up with a brand new Google Maps app, which we believe is going to be sleek and super-useful like every other Google app. Second, app developers are working round the clock to come up with interesting map apps, as this is their chance to reach huge number of potential audience who are searching for Google Maps alternative. AR-Maps is yet another app that falls in the second category. Sure, it's a Google maps alternative but there's a slight twist.
Using Augmented Reality technology, AR-Maps offers a visual view of our world through Google Maps and iPhone's standard mapping application (Apple Maps).
AR-Maps tries to offer the best of both world by giving users a real world experience on one hand and 2D maps on the other. It does this by dividing the screen into two parts. The bottom half of the screen shows Google or Apple maps while the top half of the screen displays the real world through the eyes of your iPhone's camera.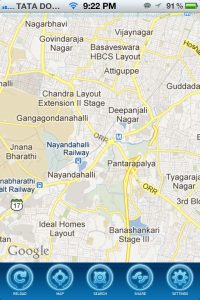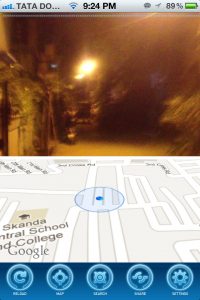 Google Maps on the left and midnight — blurry midnight (thanks iPhone!) — street on the right.
Holding the iPhone vertically or horizontally forces the app to quickly adjust both the bottom and top half of the screen in its confined space. Check out the video below for more information: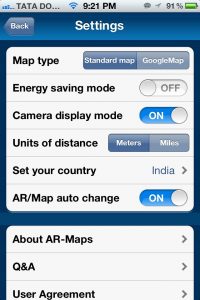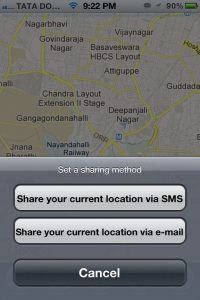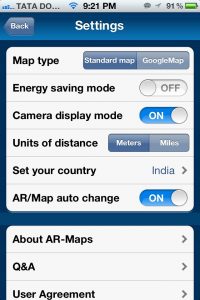 The app, however, isn't as polished as the other maps we have used. There is no way to drop pins or search multiple routes. Finding the distance between two places is possible, but you have to struggle a bit to find that option. In short, AR-Maps is very basic, and that's probably not a good sign.
The Augmented Reality technology is budged tightly within the app, which is why we downloaded the app. We hope the next update will roll out some new features. Nonetheless, iOS 6 users who want Google Maps will find AR-Maps useful.
Available for free, AR-Maps works on iPhone, iPad, and iPod Touch running at least iOS 4.3 firmware. Devices with iOS 5 and iOS 6 can also take advantage of this app by downloading it from the iTunes App Store.
Download AR-Maps [iTunes App Store]
For those who are still fishing for a decent Google Maps app for iOS 6 devices can either install web version of Google Maps or use Maps+ application. Nokia's Here map is yet another decent mapping application worth a look.