Portable application are sometimes very useful as it writes no files on to your hard disk or manipulates the registry domain.Portable application doesn't even require installation,it is built in such a way that you can carry them with you in floppy,pendrive or compact disc.Here is one such portable application client for MSN instant messaging client called Pixamsn.
PixaMSN is a useful portable application which acts as MSN-Windows live Messenger IM client Clone.You can download Msn messenger client,unlike the original MSN messenger which requires installation and occupies hard disk drive space  (msn is not portable)  pixamsn is portable which can be carried everywhere and can be run completely from portable device such as a floppy or USB flash drive.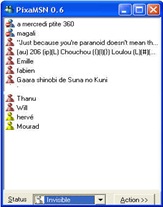 Using Portable MSN/Windows Messenger
First connect your USB drive to your pc and then download PixaMSN,while you are about to download make sure that you select the USB drive as the destination drive for the download.After downloading pixamsn just extract the file from the USB drive (extract to USB drive destination) and you are done.Now you can use pixaMSN and access MSN messenger from anywhere using your USB.
Also when you are logged in to Pixamsn it will automatically login in invisible mode so that you can see if anyone from your chat list are online.A good free small classic msn messenger program!