The Palm Centro Smartphone was the first Smartphone that was produced for the masses. In the USA, this phone was sold for a reputed $49 with mail-in rebates and other discounts. The Palm Centro runs the Palm Garnet OS version 5.4.9 and is a very fast and a generally easy to use cell phone.
Though the Operating System is outdated (it is now not supported by Palm inc.) the easy-to-program platform is a performer, and many free games for the Palm Centro have become prevalent these days. Most of these games look outdated and bad; however, their game play is nothing short of addictive, I tell you!
Snails Game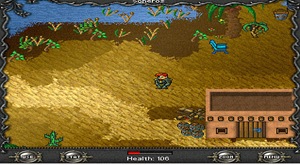 Snails is a port of the famous Worms games for the PC to the Palm OS. Featuring cute, chirpy snails with weapons of mass destruction (instead of cute worms with weapons of mass destruction) this is one of the best free games available for the Palm Centro Smartphone.
Both addictive and hilarious, the game features two teams of snails pitted against each other with a lot of dangerous, explosive or downright hilarious guns, weapons and assists put in. The game is basically turn based strategy – both the stylus and the keyboard is used for this game. The game also features on board two-player, that is, you and your friend can play this game on the same phone!
Arvale: Journey of Illusion Game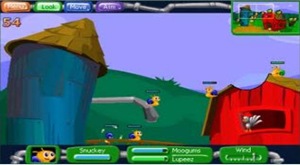 This is an old-school RPG game released by PDA Mill. Featuring gorgeous, nostalgia-inducing graphics, this game reminds one of Zelda, Final Fantasy etc. with its large, expansive world and many monsters that you get to meet. The Epic storyline is punctuated by normal people's quests and it is nothing short of addictive.
Featuring a beautiful soundtrack and colourful terrain, this is one game you do not want to miss. Download Arvale: Journey of Illusion!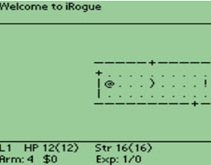 iRogue Game
Do you like Rogue-likes? Are Nethack, Angband, TomE and Moria your favorite games that do not need any graphics cards apart from your imagination? If that is a yes, and you own a Palm Centro, the free iRogue Palm centro rogue-like game for the OS Palm is for you. With a huge world to discover, and plenty of open-source work going on, this is one game you do not want to miss. Battle "!" and "(" and other nasty monsters that have no other look with your cheerful blinking "@" hero!
Download iRogue from its development site
WiFight Game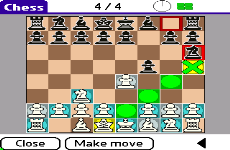 Like Chess, Knots and Crosses, Reversi, Dots and Lines, Checkers and all those two-player board/pen and paper games? How about playing these games online against a human opponent, for free? WiFight allows you to do just that, with a fabulous game client that works with just GPRS. In addition you can also chat with other players, compare scores and play an unlimited number of games once you register (for free!)