When Google Plus (Google+?) was rolled out last month, I was a bit reluctant to join yet another social networking site, but at the same time excited to pop in and see what Google was really up to.
To my surprise — and to the most of us — Google Plus, in only a few weeks, was able to muster over 20 million users. Plussers (the Google Plus users) are inviting, sharing, hanging out, and adulating Google Plus because, I think, most of them are comfortable using Google Plus — not to mention that Google has made our life easier, and the least we people could do is crown this social networking with success.
So, here we are, helping Google to reach enviable numbers with the hopes that the site will improve over time. In this article, we are going to focus on the websites, the little gems, that are an extension to Google plus.
Some of the sites are popular, and some of them not much known to the outside world. +1 them. Explore them. And let me know if you've an interesting site to share.
GPlus — Create Custom Google Plus URL
If you want anyone to circle you but you can't remember the long — ugly, ahem! — URL of Google Plus then welcome GPlus, a site that brings aboard short vanity URL for your Google Plus profile.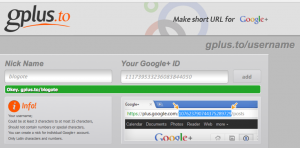 All you have to do is to enter a nick name along with your Google Plus ID, and a shortened URL is created. This URL redirects to your Google Plus profile. Simple. And very useful.
Example: http://gplus.to/blogote

Find People on Plus
Did you know Engineers, Developers and Designers are the top 3 occupation of Google Plus users? That's what this site says so.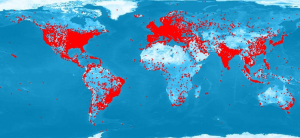 If you are targeting people on Google Plus, then this is the website you should definitely check. What I liked about Find People on Plus is the ability to filter people based on interests — your interests. And there are a dozens more things you could probably do with this website. Go ahead and explore it.
Hangout on GPlus — Longest Hangout on Google Plus
While browsing through Google Plus last week, I picked up this link where a small pool of users wanted to make a public hangout. With the initial initiative from Mark Olsen, he now has created what is known as the longest hangout on Google Plus. The site, Hangout on GPlus, streams video of people chilling out on their webcam through the Google Plus Hangout.
I was on this hangout, twice, and I find this incredibly entertaining. I made quite a few friends, but Mark Olsen and Annetta Haven are two nice people I've circled on Google Plus — oh, while you're at it, feel free to circle me.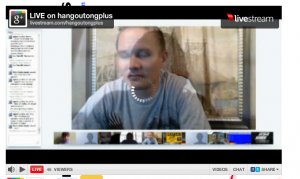 Another note-worthy site, similar to Hangout on GPlus, is Hangout Party. The site is nothing new but not popular yet, which makes it easier to stalk your way into the room.
GP Hangouts — Public Hangout List
GP Hangouts is the first Google Plus site that had me glued for hours. What we have here is the list of publicly available hangouts of Google Plus updated manually by the plussers. There are a variety of brand-spanking-new hangouts available every hour.ll you have to do is click on the link to visit their profile, and join the hangout.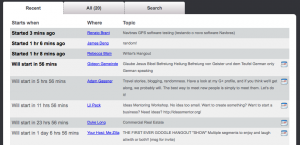 Some of the hangouts might go on indefinitely, but it's fun… to leave and join another hangout. One thing I'd like to see GP Hangouts to implement is to list hangouts automatically, so that we don't miss out any interesting hangouts. Other than this, I think GP Hangouts is — pay attention — the doorway for you to become the Mega Stalker of Google Plus.
Women of GPlus
It's never been easier to find the other side of the world on the internet, the world filled with females. Loads of them. Luckily, this is the site — more like a blog — where we have popular Google Plus ladies interviewed. And, as usual, these ladies refrain from revealing their exact age.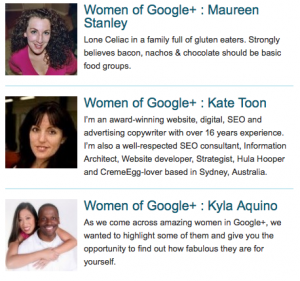 I'd like to see a similar site with less information, and a site linking directly to their Google Plus profile. Plus a filter based on our interest would be a nice addition. In anyway, this is another useful site to find the popular people of Google Plus.