Digital Mp3 players are populated gadgets commonly used to listen music anytime, anywhere! With the progression of technology, not only are the latest mp3 players size been cut in half but you can operate them with simple click on an button.
An simple digital mp3 player would cost you maximum of $200 but their is no limit of customized digital mp3 players that you can order from the mp3 player designers showroom.
These designers come up with ideas such as embedding layer of gold on the front portion of the mp3 player or having those exclusive custom diamond cuts studded on your mp3 player. Nevertheless, let's have a look at some of the most expensive mp3 player gadgets available.
Expensive Mp3 Player Gadgets in the World
1. Trekstor Mp3 Player
Trekstor is an company that specializes in hardware and mp3 player gadgets, Alex Shnaider (owner of Midland F1 team) arranged them to design an custom digital mp3 player.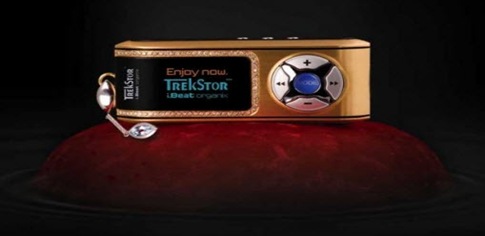 Price of Trekstor Mp3 player: $20,000
This expensive mp3 player was custom designed with gold adorning diamonds and an chain.
2. iDiamond Mp3 Player
iDiamond as it name suggests, is an simple ipod player with 400 diamonds spread all over it's body. And, additional 100 diamonds on the headphone to please your ears as well!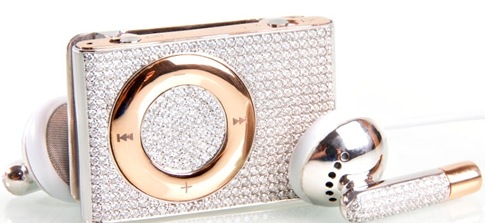 Price of iDiamond: $40,000
iDiamond mp3 player also has 18 karat pure white and pink gold. No doubt it's one of the classy looking digital mp3 player 
3. Douglas.J Presidential MP3 Player
Although with quite an unexpected name, Douglas.J Presidential MP3 Player is an 1GB media player that was introduced almost 5 years ago and still stands no.1 in the list with an price tag of $44,000.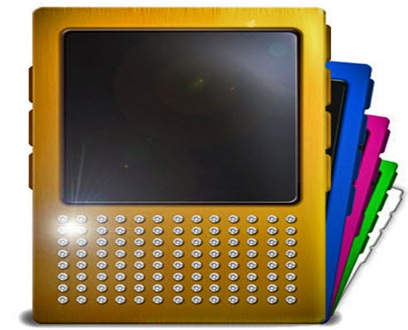 Price of Douglas.J Presidential: $44,000
You can also ask for custom order or change the physical configuration or the mp3 player into pure white gold to the company Meng Duo Ltd, in London. All the buttons are crafted with beautiful diamonds. Talk about luxuriousness, this is it.
Leading an extravagant lifestyle gets easier with such expensive gadgets eh