Kelly from iMobie provided us with free license codes of PhoneTrans Pro software. We are giving away 15 activation keys of this product to you, our dear readers.
Although there are many lite MP3 players that are wonderfully designed, some of us still prefer to use iTunes. Yes, iTunes can be buggy, a bit unstable at times, and takes up huge chuck of our computer's memory every so often; despite that and several other issues, we still use iTunes for legitimate reasons.
The reason why I use iTunes is to browse through the iTunes Store to discover interesting iOS apps and, more importantly, sync the content between my computer and iPhone.
Most of us are comfortably using iTunes, but if you are looking for an alternative and a convenient way to transfer media content between your computer and the iOS devices, then PhoneTrans Pro is going to leave you impressed.
Transferring Content is Easier with PhoneTrans Pro
PhoneTrans Pro can be considered as an alternative to the iTunes player, with additional functions eliminated for your own benefit. The focus of this tool is to help you transfer files and media content. For instance, one can easily transfer songs from a computer to iPhone without launching iTunes. It is also possible to transfer content wirelessly using iOS 5's WiFi feature.
PhoneTrans Pro also eliminates the tedious process of transferring songs from your iPod to iTunes on your computer. Even sending music and videos from your computer to your iOS devices is a straightforward process — simply drag and drop the files.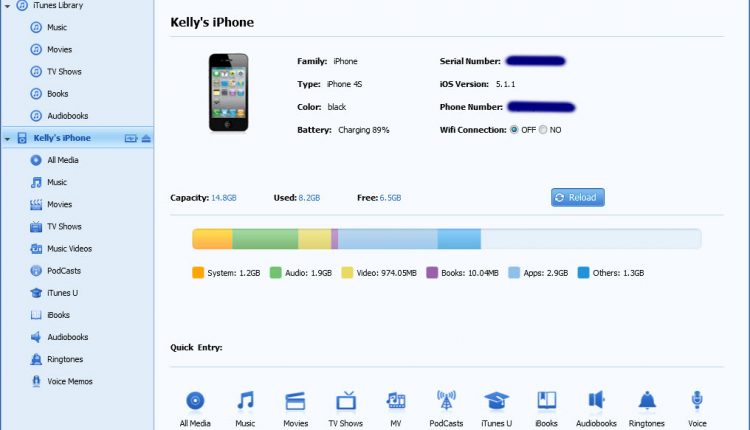 Music, movies, TV shows, podcasts, audiobooks, iBooks, ringtones, voice memos and much more can be wirelessly transferred using PhoneTrans Pro. Simply select "on" WiFi connection from this utility to gain access to the contents of your nearest iOS devices.
Let's say you have captured a video on your iPhone, and you want to access the video on your computer; then, launch PhoneTrans Pro to remotely access the content of your iPhone. Select the video you want to move to your computer and transfer it in no time. You can also transfer content from one iPhone (iPad or iPod Touch) to another iPhone, iPod Touch or iPad.
Get License Keys of PhoneTrans Pro
A quick look at the iMobie website reveals that PhoneTrans Pro is usually sold at $39.99, but there's a limited discount of $10. But let's get to the point — you can get the full-version of PhoneTrans Pro — from here — for free. Simple enter our giveaway by completing the tasks given below and we will select 15 people who will receive a genuine license key from me.
The last date to submit your entry is on October 30th.
Enter the contest:
a Rafflecopter giveaway
Note: PhoneTrans Pro (version 1.3) works only on Windows XP/Vista/7/8 (32 & 64 bit).