One of the common system files found in 32-bit operating systems, like Windows XP, is ntvdm.exe. It stands for Windows NT Virtual DOS Machine. This file is typically found under C:WindowsSytem32.
The file size in Windows XP is 520,192 bytes and is a core Windows file which is Microsoft signed. Therefore the technical security rating on this file is 2% only. This file is extremely prone to virus attacks and lots of viruses have been known to disguise themselves as ntvdm.exe to avoid suspicion.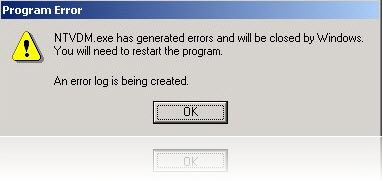 The ntvdm.exe file is normally used when you want to run a 16-bit application on a 32-bit machine. These may include older softwares as well as classic games like Counter Strike which incorporates the half-life 2 engine.
A very common problem that users face when using 16-bit applications is an ntvdm.exe error. Sometimes the file fails to execute whereas in most cases it takes too long to respond thereby hogging on system resources. Sometimes CPU usage can go up to 99-100%. This is typically due to the fact that ntvdm.exe has stopped working. There are a few methods to try and prevent this.
Fix ntvdm.exe CPU Usage
A simple method would be to stop ntvdm.exe from starting up during booting of the computer. To do this, follow the following steps:
Select "RUN" from the START menu.
Type "msconfig" and press enter
Select the "startup" tab
Find ntvdm.exe and remove the tick from its side.
Reboot your computer.
For emergency cases you can call up the task manager by pressing CTRL+ALT+DEL and stop the process named ntvdm.exe. Keep in mind that this will consequently stop the application which had brought it up in the first place.
Another trick to prevent ntvdm.exe from hogging on system resources is discussed below:
This is in case you are using a shortcut (DOS program) to call up ntvdm.exe
Right click on the shortcut and select "PROPERTIES"
Go to "MISC" and find "ALWAYS SUSPEND"
Set the idle sensitivity to "HIGH"
Save and exit
This prevents the exe file from using too much of resources when it is waiting to be executed, that is it is in idle status.
Another very common reason of trouble is a virus. Since the ntvdm.exe file is a Windows verified file, hence it is easy for a virus to disguise itself as the file and bypass some scanners. Common problems would include multiple ntvdm.exe processes in task manager, too many unknown processes when you start a DOS application, too many .bat files getting opened etc. In such cases use a good quality anti-virus to scan and remove any forms of virus on your computer.