You can navigate through different sections of Gmail — inbox, sent items, trash, labels and so on — by hitting a combination of keys on your keyboard. For instance, pressing c when you are using Gmail takes you to Compose message window. Press g then d to go to drafts. Or hit ! to report an email message as spam.
There are just too many shortcuts keys available when regularly used can save you time and streamline your browsing experience. To activate the keyboard shortcuts option, head over to Gmail's Settings and check the radio button "Keyboard shortcuts on." It's that simple!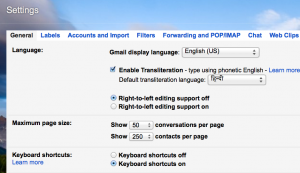 How to Remember These Gmail Shortcuts?
The difficult part is not with using but remembering these keyboard shortcuts. Memorizing every Gmail shortcut key is never going to be easy. In fact, you don't to by heart them! This is the only key-combo you ought to remember:
Shift + ?
When you hit Shift and ? keys on your Gmail window (assuming you are logged in), a semi-transparent window layer pops up, displaying all the shortcuts available. There is also an option to enable or disable the keyboard shortcuts option.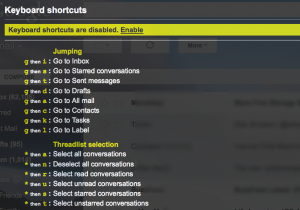 I accidentally found this shortcut while trying out a variety of keyboard combination.