Another quick update for those who are fervently waiting to jailbreak their iPhone 4S and iPad 2 device.
Well, just keep waiting.
As you already know, the iPhone hackers have teamed up to bring working untethered jailbreak to the A5 processor devices. We followed them on Twitter to find out their train of progress. So far, they are hitting the right note. Here is the tweet from Musclenerd posted few hours ago: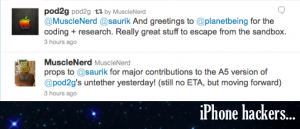 We all know these iPhone hackers have a knack to jailbreak any firmware, so questioning the veracity of these tweets is definitely out of question. Previously, these hackers have recommended iPhone 4S and iPad 2 users to upgrade to the official iOS 5.0.1 firmware, which stands as a firm proof that the working jailbreak is on the way.
As it has been speculated before, jailbreaking A5 processor devices is an out of the ordinary experience for iPhone hackers. However, Pod2G pooled the members of Chronic and iPhone Dev team to crack the code. And looks like this brilliant team is working against the time, sweating their guts out to release this jailbreak utility to the masses.
For now, all you iPhone 4S and iPad 2 owners out there can get back to work while we will keep our eyes peeled to let you know if anything interesting comes up from the chamber of iPhone hackers.