The chronic Dev Team has finally released the Windows version of the Greenpois0n, which is one of the popular tool to untether jailbreak for iOS 4.2.1 firmware. The Mac OS version of Greenpois0n was already available, so it was obvious that Windows version was in the works.
Just today, the Windows version of Greenpois0n RC5 is made available for downloaded — Jump to the end of the page to download Greenpois0n RC5 For Windows.
For those of you who haven't used this tool yet, you should know that unlike redsn0w 0.9.7, there is no need to save SHSH blobs anymore, as the Greenpois0n RC5 for Windows will untether jailbreak all iOS devices running the iOS 4.2.1 firmware.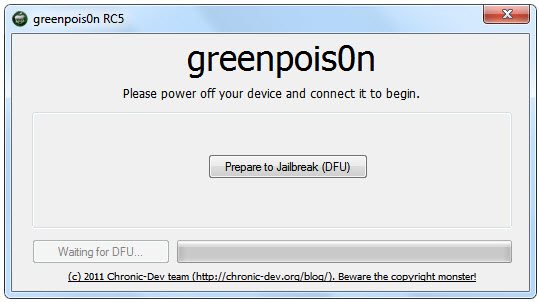 The list of device compatible with Greenpois0n RC5 tool:
iPhone 3GS (all bootroms)
iPhone 4
iPod touch 2G (all bootroms)
iPod touch 3G
iPod touch 4G
Apple iPad
As always, please backup your iPad, iPod touch or iPhone. Also, it is suggested that ultrasn0w unlockers should stay away from the official IPSW files.
Download Greenpois0n RC5 for your Windows and proceed with the instructions given in the file to know the drill. I'll try to come up with a brief tutorial on using Greenpois0n RC5 on both Mac and Windows platform. Stay tuned!