Movies are different from reality, where you make thousands of videos and pictures to make one perfect seems to be candid. But is it really candid? Or a joint vlog of thousand bloopers? Yes, it is not a candid which has been made after compiling thousands of joint videos. So, making a video is far different from a random reality of life. Simply, video is editable and voice-overs can hide the mic voice or volume issues. This was the description of a video's or movies life.
Real versus Reality of Webcams, and Mics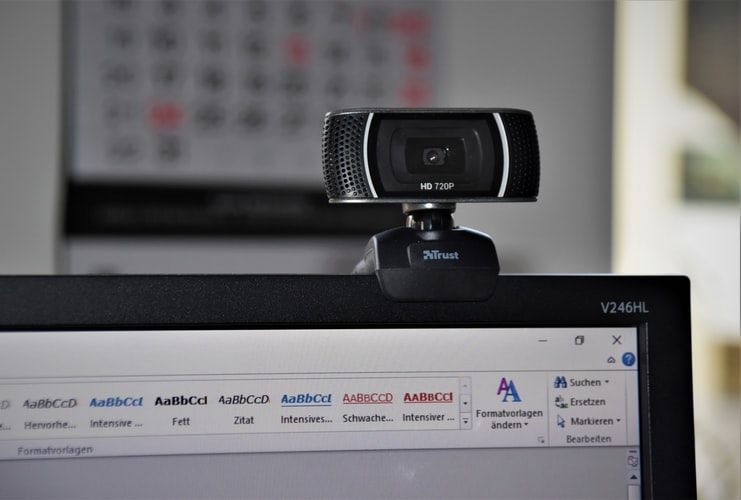 The life of movies and videos are unlike that it comes to real-time live video calls in front of webcams. We make a video call then we are unable to pause it. Because it's live and continuous. We cannot edit this. What happens is; you even are unable to mute your mic. No doubt there is a mute button but whenever you press it you will mute your speaker, not the mic. So, here you need privacy.
If you are stressed about how to get rid of this situation that nobody can hear you are typing during a video call. Thus, we need to fix the hanging up of the calls as well. Here are some apps that will efficiently guide you to keep everything private. These apps designed with the mechanism to hide your mic and camera as well. You need to be sure that they must turn on when you are ready to share the screen.
Following are the ways to stay private when you do not want to open some of the people in your life.
Hide Your Camera to work in private
There was news from the Facebook Cabinet of Mark Zuckerberg that has been revealed in 2016 that his laptop cam was covering with the help of the electrical tape. In a picture, he shared how you can sure prying eyes are unable to see through your computer that what is happening around you?
Second, you can check online marketplaces for an alternative solution such as Amazon or eBay to cover your webcam. There you can find a wide range of smooth plastic covers to cover webcams of your laptops unless or until you want others not to see it. Another easy way is to – use a desktop computer or external monitor until you want to work in private and close your devices having webcams.
Just Check into Windows Camera privacy settings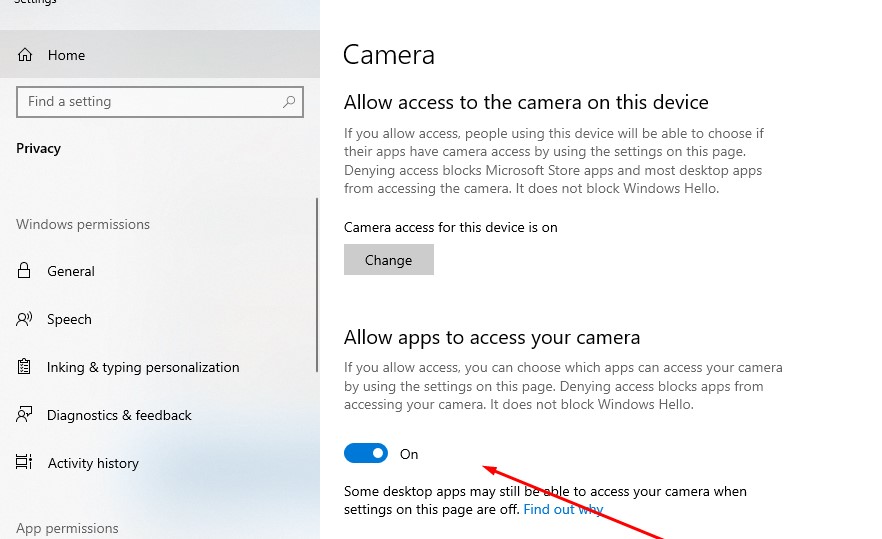 Windows camera setting has made it possible to stay private. In earlier Windows like 1998 or XP, this feature was limited to keep your cam private along with specifics apps. While the camera privacy settings of Windows 8 and 10 will let you help more definite way. You can disable the camera through settings. Open settings from Start Menu, by clicking on privacy select Camera Tab. Here you will find an option to turn off cam for specific apps to disable them from reaching your camera access.
macOS has a setup option for hiding the camera by disabling it hence you can turn it off or on by configuration your profile.
You can get through the following app that can help you more to turn off access to your webcam.
OverSight (Mac)
Apps always run at the backend of your computer. OverSight is more efficient to let you know when some apps try to use your webcam. The major feature of this app that it will notify you to disable your webcam just in a single click. In this way, you will be able to stop your webcam by default sharing, even at least you get notified that your webcam is turned on.
And whenever your call ended, OverSight gives a beep alert that the app stops using your camera too.
OverSight Price: Free. The best part of OverSight that it's free of cost.
Micro Snitch (Mac)
Micro Snitch is another cost-effective app that runs more efficiently. It not only notifies you whenever your mic or camera was turned on. But with a small popover it will let you know that both were used when you were away from your computer screen. You can add another option by enabling notification for sound alerts. You need to turn on that setting always even when you were away.
In its popover notified list, you will be able to find out which apps were using your cam and mic in your absence when you were not using your computer. Even you can find out the apps in finder apps. Micro Snitch app cost nothing more than $3.99 on the App Store or Google Play Store.
Mute Your Mic
Have you ever notice after a call you made that your call had ended or not yet? It is not about the hot mics or sneezing during a call but you need peace of mind as well that you stop working on the computer for a while and want to listen full of calm audio streaming at a cozy time. For this purpose, you can use F1 to 12 keys to mute your mics, mostly F7. But you do not have any button to mute your mic on your keyboards.
Here is the guide to be sure that your mic is only on when you desire it for.
Use Your Computer's Mic Settings
Mute macOS microphone
The most perfect way is to with simpler rules for your computer by using computer operating systems such as muting microphone setting in macOS. On every mac, there are some System Preferences found always. Open up the SP setting and select the Sound then pick one of the Input Tab. You will find an Input Volume slider down tab on the very low-left side. Here you can mute your mic unless or until you are going to unmute it.
Mute Windows microphone
You cannot complain against windows that they do not help you to mute your mic. They have that feature potentially to help you with the muting mic issues. But you need to make a little on-spot effort by opening it with hidden setting screens.
Follow the following step to mute your mic from your Windows settings.
On the taskbar of your desktop, you need to right-click the speaker icon and select the recording devices.
Select your mic in the settings Tab; Click Properties and choose the Levels Tab. Here you will find the option to drag your mic low-left side. You can mute the mic by clicking on the speaker icon.
Windows also allow you to disable your mic from the microphone setting by clicking the option mark, "Do not use this device" to mute your mic directly. By this, you can help yourself. But to re-enable these services you need to go back to the Tab says "Show Disabled Devices".
Do you want a simpler option? There are some apps to help you out with the direct muting option of your mic. There will be a hotkey on the system tray to disable or mute your mic.
Shush (Mac)
Want default app settings? Shush is the best Mac for muting for the mic. It shows the simplest path by using the feature push-to-talk mode. This is easy to activate you only need to press the Fn button by firmly holding it. When you leave the button, it might mute or unmute instantly in an eye-blink. Such apps are needed when you are leading a call in a meeting then you need a small pause for coughing or grab a sip of a drink. You can push the call to the sudden-silence mode that SHUSH App's main feature. The cost price of Shush Mac is $4.99.
Mute Me App – With a feature on Mac Touch Bar
Do you want a lavish mute button on your keyboard with extreme smartness? Mute me is the best feature app that can add a luxurious spice to your new MacBook Pro with a Touch Bar muting mechanism. Whenever you turn on your MacBook, you will see the extra mic button provided by the app near the MacBook's own audio control button. You need to tap it just to disable or enable the mic whenever you needed. The best thing about this app is – it is free of cost.
Note: Do you need to install mute me on any mac you want? Then install a touch bar app called Touché. Then you can able to use anywhere the app Mute Me.
MicMute (Windows)
There is a speaker icon on the taskbar's lowest right side beside your mac clock. There all you need to add a mic button too is called MicMute. This enables you to mute your mic when it runs itself. You need to press a hotkey or if you right-click the mute option of your mac. This icon automatically turns red when the mic is not on mute mode. You can turn it on or off with help of a hotkey press, just like we do on a walkie-talkie. The MicMute is free of cost while helping you a lot.
You can now Disable Mics from Keyboard on Mac
Try to Mute Mic from Alfred
Alfred for Mac or Autohotkey for Windows is the super sophisticated and efficient automation apps for your computer to mute mics during a private call.
There are two options on Alfred for Mac. First, is Mic PTT that built-in help you to mute your Mac with a hotkey by pressing F6? Alfred Shush is the second option to mute your mic on mac. You can enable or disable it when you need to. With built-in mic tools featured with a connected Soundset in AutoHotKey for Window, you need to add a hotkey to mute your mic.
You need to use the free NirCMD app to mute your mic promptly. You can do this with keyboard shortcuts to turn off notifications automatically.
Turn Off Notifications
You are presenting an assessment in a meeting when you get a popover of Amazon's shipping notification on the right corner of your screen. With a burst of laughter in front of your team, it is embarrassing to get such a notification in the middle of the presentation. A handy notification can be irritating. Sometimes you are not able to afford any distraction during work. Secondly, these popup notifications are way too much information when you use a computer in a public place. Thanks to Window Owners and developers who created the features of the turn off notification.
Mac feature – Please don't disturb me
On your Mac, you will find the notification icon on the very right-lowest side of your menu bar. Open it up and scroll down to expose the options in front of you – will find the Do Not Disturb Option. You can tap it up to Turn On. In this way, you won't be able to get notifications until you turn it on.
Whenever you want to turn off notification during a video call you need to use an app to mute notifications and turn on the feature Do Not Disturb automatically if you are on a call with Slack, Skype, Join.me, Zoom, WhatsApp or many more.
Windows Quiet Hours
There is another amazing feature introduced at the launch time of Window 8 and 10.
By opening Notification Action Center, you can turn on Windows Quiet Hours which means you can disable notifications unless or until you want them to turn on again. This feature will give extra peace of mind with such quiet software for you.
Privacy Matters a Lot
The computer has made this place a global village to live in and help us to collaborate anywhere in the world. However, computers themselves have been proved a rare source of too much information within chucks of few minutes. Therefore, sometimes you need privacy that matters a lot so you can mute your mic and webcam streaming when you do not need it. You do not need to be worried. Just pick up a few tools or the above-mentioned apps even have a hand-tips setting of your computer by default to make sure that you can willingly mute or turn on or off mic, webcam, and notifications as well.