YouTube is one of the popular video website on the Internet, and while using this site I am sure most of you have faced a problem or two. Sometimes the YouTube video player does not load properly or fails to load at all — a blank page may appear when you are trying to watch a video. Or worse, the video loads just fine but you may get a message saying that says the video is no longer available.
Here are a couple of solution to fix this problem.
Refresh the Youtube Video Page
One of the common problem I come across while trying to watch videos is that the page goes blank. In such cases, manually refresh the video page (F5) or automatically refresh them using Auto Refresh addons.
Stop Google Web accelerator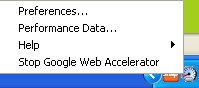 This is something unusual — the Google application GWA (Google Web Accelerator) speeds up your Internet but it also obstruct with the Youtube Video. So if you want to get rid of that error message on Youtube then Stop Google Web accelerator.
Install Latest Flash Player
Another common solution is to download Adobe's latest flash player plugin on your computer. If you are not familiar with this solution then check out the detailed steps on Adobe Flash Installation for any browser and the videos will load.
Try Youtube Playlist
If you have problem viewing videos in Youtube.com then create Online Youtube Playlist (link) to search and watch youtube videos on Youtube Fast search website.
Download Youtube videos
Download the video from Youtube and convert them for offline viewing. This is the best practice when you want to watch any favorite online youtube video; here is free online youtube downloader and converter to save Youtube videos offline.
Usually, some of the videos are taken down due to copyright issues. In such cases, you can use Google's cache function to view the video, although this trick doesn't work every time. If you have encountered any problems with YouTube.