With tons of new movies releasing everyday in different language,there is a need for Sub titles because many people would like to see different language movies in there own understandable language.Subtitles are just a text version of the dialogue which is spoken by the character in the Movie.If you are looking you downloading subtitles for free then head over to Open Subtitles.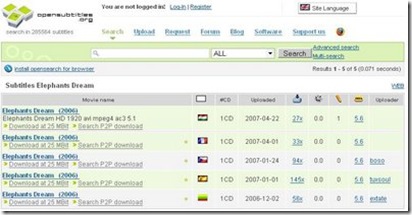 Open subtitles which is considered as one of the huge database for downloading free subtitles has movie sub titles in various languages.Open subtitles is one the biggest multi-language movie subtitle database.
Just make sure that the Movie name and the subtitles matches.If you have downloaded "wanted.divx" then the subtitles which you have downloaded must be "wanted.srt" (srt is extension of subtitles).Now open your divX player and load the subtitles,subtitles are usually very small in size as they are just a text document.Not only you will get free divx sub titles but also dvd movie subtitles,Xvid subtitles and all english,non english movie subtitles in Open subtitles website.
You don't need to register for downloading subtitles,just visit Open Subtitles and search for favorite movie subtitles,download it and load on your media or Divx movie player.You can also receive the results by e-mail or rss and if you didn't find the subtitles of a movie then login and request the Open subtitles team to get the subtitles in the desired language.They are quick to respond!