It is quite apparent to face the increase in data, application softwares and information in large measure as you keep on in continuance with your regular PC habits. Whether you are using Windows XP or Windows Vista, it is obvious that your computer becomes too slow; tries to consume excess RAM, and hangs while switching programs.. now it's the time to tighten up yourself and fix these low performance issues by tweaking some windows components.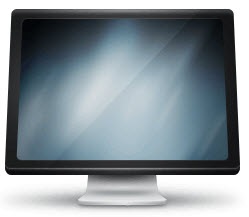 Mentioned in this post are some of the useful vista speed tweaks that can increase performance to an certain extent. You can also use softwares like ccleaner for windows that can remove junk files and delete temporary files. Do download.. it's completely free.
The sixth installment in Windows operating systems from Microsoft Corporation, known as Windows Vista, seems to be a very slow and resource-hogging platform. It tends to bring even a decent machine to a crawl and can make daily computing experience extremely problematic sometimes.
With that being said, here are a few useful performance tweaks for Windows Vista which can significantly speed up your vista system.
1. Turn off Windows search indexing:
Windows search indexing is used in vista for faster searches. The system continuously keeps track of files for this. To do this:
Go to My Computer
Right click on C: drive
Uncheck "index this drive for faster searching" under GENERAL tab.
Also select "Include subfolders and files"
2. Turn off Automatic Disk Defragmentation:
Defragmentation, although a necessary utility function, should not be performed regularly. You should perform it manually once a week. Turn off automatic Disk Defragmentation by doing the following:
Go to My Computer
Right click on C: drive
Go to Properties and click the tools tab and then "Defragment now"
Uncheck "Run on a schedule"
3. Use Windows Ready Boost:
This feature in Windows vista enables a user to use a USB flash drive as a substitute RAM. Hence performance can be significantly increased. To achieve this perform the following:
Insert a 2GB or higher pen-drive into the USB slot
Go to My Computer
Right click on the USB drive and select "Ready Boost"
Choose "Use this device"
If you want a faster computer then keep the "usage v/s storage" ratio on the higher side.
4. Disable Windows Sidebar:
The Windows Sidebar can be disabled to free up a little amount of RAM. Too many widgets on the sidebar tend to slow down the machine. To disable the sidebar, do the following:
Right click on the Sidebar
Select properties
Uncheck "Start Sidebar when Windows starts"
Click on OK to confirm changes.
5. Turn off Automatic Windows Defender Operation:
The automatic defender runs in the background protecting against malware even though automatic operations are disabled. Moreover a good anti-virus takes care of this better. Turn it off to spare some RAM and CPU speed.
Go to Control Panel and select Windows Defender
Select tools and then options
Uncheck "Auto start".