I could not help myself from being impressed with the HTC HD2. Why? Because the combination of its physical attributes is truly exceptional Almost like a smartphone for $200 and a two-year subscription from T-Mobile. But I was somehow dismayed when I discovered that it has but an obsolete OS, the Windows Mobile 6.5 which cannot be upgraded with the WinMo 7 once it's out.
Stunning Design
Nevertheless, the minimalist design is really exceptional. Stainless steel, soft black rubber body, very chic appearance though it's a little larger than most smartphones (4.7 x 2.6 x .4 inches). This slightly bigger built is accounted to accommodate the 480 by 800 pixel resolution in its 4.3 inches WVGA screen (responsive but sluggish on the average).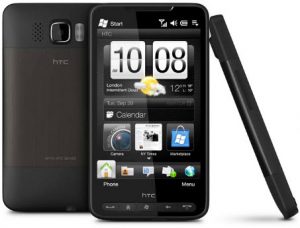 Beneath the screen are five elliptical buttons (each for Power/End, Back, Windows Start, Home and Talk); at the bottom edge of the phone is the 3.5-mm headphone jack (top side is preferable) and mini-USB port. The 5 Mp camera and its LED flash are above the battery cover and the volume dial is on the left.
Old Fashioned OS
The outmoded Windows 6.5 OS is teamed up with HTC's unique user interface, the HTC Sense. So at certain points, the sluggishness and confusing features of the OS is not that obvious and even makes the device user-friendly as well as good to view. The Sense composed of shortcut bars at the bottom for flocking through the applications.
As with the WinMo, the most advantageous trait is lock screen, missed calls and messages can be viewed without the need to unlock it. To respond, you will need to really unlock it then you are directed straight to the app. It has two browsers, IE and Opera Mobile. For YouTube videos, IE is suggested. While for swiftly searching anything on the internet, the Opera Mobile is more preferable
Substantial Multimedia Elements
The Windows Media Player is superb as always in track playing but on this device it appeared uninteresting. But then again the HTC Sense has a large screen that makes up for the high-quality videos that can be downloaded and watched straight from it.
The camera too is impressive, just right for both indoor and outdoor shoots.
Mottled Operation
This phone is almost perfect but you really have to deal with the fact that it is slow to operate at certain times; it can be a good alternative for android Google Nexus One with same 1GHz Snapdragon processor.