Just got a Mail from Avinash asking:
I accidentally deleted my orkut account and want to recover the profile as I had some important messages and contacts. Is it possible to reactivate the account ?
Orkut doesn't have the feature to restore/recover your lost scraps or Orkut account.If you have deleted your orkut account and want to reactivate the account then the only possible way which orkut suggests you is to create a new orkut account. If your orkut account is deleted using this method then immediately login to your account within 48hours and request for reactivating the account to Orkut team from here. If they hear you then they will re-activate the account!
Also orkut doesn't have any stored data after your orkut account profile is suspended or deleted from their server after 48 hours.So the only solution I can suggest for now is to do a backup of your Orkut account. Though there are no softwares for backing up your orkut scraps,friends,testimonial and application, so we are left with the only option of manual backup.
Backup your Orkut account Profile
Save the Profile
Open your notepad and copy the whole Orkut profile including About me, Personal and Profession section. Alternately you can save the page including the images in your hard disk. Just Go to File from your browser and click on Save as, make sure you save the file type as Webpage, Complete so that any images or link source will be saved along with the page.
Download Your Orkut album
Always make sure you copy your orkut images from the album in your local drive incase if your profile is flagged and suspended. If you don't know how to download your photos from orkut then here is a easy solution to Save your Orkut images locally 😉
Recover Orkut friends & contacts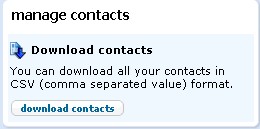 Orkut has a built in option to download all the contacts you have with in your friend list, just visit Friends section and check the right panel Manage contacts,click on download contacts and orkut will ask for verification for download. Download the whole contact data in the csv format!
Similarly save the video links,Orkut application and retrieve other important scraps which are necessary to you Or create another Orkut account and send all the scraps from your profile to the newly created profile or save them as to your hard disk. I hope orkut brings in any application or feature which allows the users to backup easily! Though this manual backup takes some time but it is the only solution we have! 😐