Recently, I talked about omegle chat and how cool it actually is as you can instantly video chat with people from other parts of the world using web camera. Least did I know that, there exists Chatroulette, which has been the new internet sensation from quite some time now. I don't know if omegle video chatting gathers its inspiration from Chatroulette.. but both of them have been certainly the best anonymous chatting websites I've found till now.
Generally, reviewing websites like Chatroulette wouldn't make much sense as it is quite straightforward to understand. In short, you need to have web cam and microphone (for audio chatting) to connect on Chatroulette to begin chatting online, without registration. Click on next game to chat with random person.
Here is one of the funny screenshot from Chatroulette chat.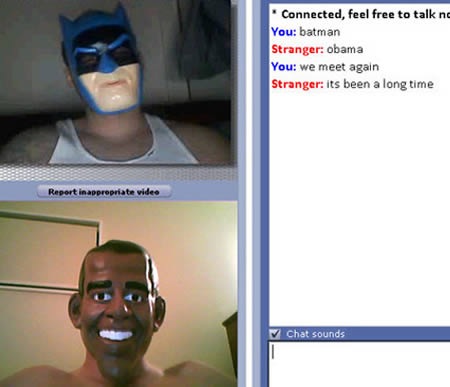 I would also suggest not to chat in public environment or be cautious while doing so.. because there are nasty perverts who indulge in activities you don't wanna hear from me 
 Watch it yourself at chatroulette.. lol
For the time being, Chatroulette.com is definitely the ultimate solution to cure your boredom.