I am sure most of the guys out there are aware of Maxim magazines 😀 If you are an existing Maxim magazine subscriber then here is an chance to extend your subscription for 2010 without spending any money! Yes, absolutely free subscription available for 2010 year.
Last year Sony sponsored free Maxim magazines to USA and Canada and this time it's the collaboration of Mercury magazine and Buy.com who are giving away free Maxim Magazine subscription.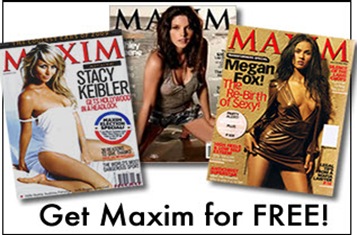 Get Maxim Free Magazine Subscription
I am sure this subscription offer will be up only for couple of days, so quickly visit the website by clicking here and fill in your identity along with email address.
Thanks to Slickdeal forums user who also suggested to contact the service for eliminating any duplicate issues of Maxim.