If you are using windows or Linux OS  then CHM files can be opened and viewed easily, but for MAC OS X users there is no extension which supports chm file reading which needs to be resolved. And if you are wondering what is a chm file then head over to this post. And if you've come here searching for CHM readers then read on..
There are several chm viewing application for Mac OS X but some of them doesn't work as it was intended too. For this reason here is a simple freeware Mac based chm reader which solves inconveniences that was caused with other chm readers and works perfectly well.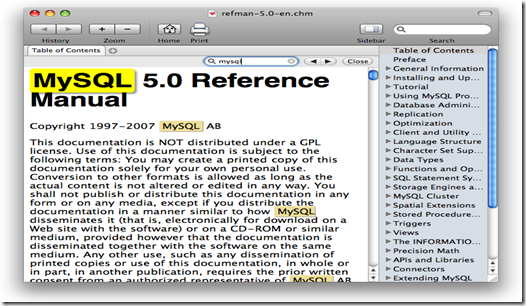 iChm reader is light weight easy .chm file reader for Mac OS X with a fully built cocoa that works faster compared to other chm viewing utility. The chm viewer has tabbed browsing feature and also easy search right on the top with text zooming option. The best feature is the easy navigation of back, forward, home, automatic search & easy to locate table of content.
iCHM reader is localized in 5 languages and it supports Mac OS X, so if you have a  Mac OS X 10.5 or later version then get this chm reader for easy reading! 😉