While Apple is busy in polishing the iOS 4.3 firmware for the idevices, we have the Dev Team performing miracles with their Jailbreak tools. As you may know, with the release of the greenpois0n tool, the iPhone, iPod touch and the iPad users running the iOS 4.2.1 firmware can have untethered jailbreak.
The iOS 4.2.1 IPSW file has been available for download for sometime now, and if you haven't upgraded your device to the iOS 4.2.1, then it is the right time to do so. The iOS 4.2.1 firmware sports features likes AirPlay, new folders and AirPrint. Also included in this latest firmware are security fixes and other major improvements.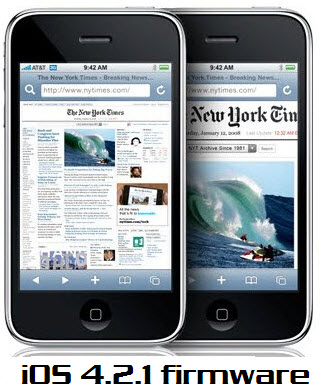 Download iOS 4.2.1 IPSW File
Download the iOS 4.2.1 firmware file from the link given below. Now, to update to the iOS 4.2.1 firmware, all you need to do is to connect your Apple device to your computer and launch the iTunes player. Select the downloaded file by pressing the Shift + Restore key.