Last Updated on July 10, 2021 by Sara Taylor
A new hero was born on the Internet this week. This mysterious person (or a team?) goes by the name Dream Jailbreak came out of nowhere on Twitter to declare hope and requested iPhone 5 users to wait for the next jailbreak. The jailbreak was said to release on 22nd December. The date was later changed to 12th December. From Twitter: "With so many questions, and so much going on regarding the jailbreak, it's been decided that at this point I can only do one thing. The jailbreak will be released to the public tonight."
People started following Dream Jailbreak's Twitter account religiously and expected lots of updates on iOS 6 jailbreak. Excitement and happiness were all over the Internet, although it lasted only for a while. The promised jailbreak was fake. It was yet another hoax.
Dream Jailbreak delivered updates — lots of them — on 12th December.
A video was posted on YouTube, showing an iPhone 5, on iOS 6 firmware, had Cydia installed. But anyone familiar with jailbreaking were able to figure out the jailbreak proof was fake. Unfortunately, the video no longer exists. Even Dream Jailbreak's Twitter account has been deleted.
For anyone interested, the picture below (taken from the video) shows iPhone 5 — the left picture shows an iPhone 5 that is yet to be jailbroken, while the right one shows iPhone 5 with Cydia application installed.
The iPhone Dev Team and others quickly jumped on Twitter and labelled the video was fake, as there were several flaws — first, there was a noticeable change in quality of the video after one minute (making it clear the video was edited), and after the device was jailbroken, there was no lock screen on iPhone 5. The icons are also slightly off.
Many people were already dubious about the whole "iOS 6 jailbreaking" tool appearing out of thin air, from a person who had no background in iOS jailbreaking. The fact that both the video and Twitter account are no longer available drops a huge hint that it was certainly a "successful" prank, fooling and probably wasting time of thousands of users who have been waiting for jailbreak ever since the new iPhone 5 came out.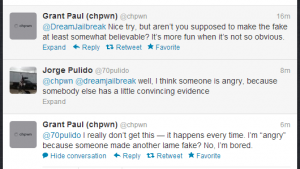 Apple released iOS 6.0.1 last month, which ignited hopes of iPhone 5 users who were running iOS 6.0 firmware — we believed an iOS 6 jailbreak would be released after Apple updates their mobile iOS. Nothing has changed so far. We still don't have a jailbreak for iPhone 5/4S devices yet, and this is probably because the whole jailbreaking process, especially for A5 devices, is difficult. Other iOS 6 devices, excluding iPhone 4S, can still be jailbroken.
The iPhone Dev Team were able to upgrade the failbreak with a kernel exploit, which means that failbreaking iPhone 5 is possible — although not everyone can failbreak.
A Chinese mobile company recently revealed that people are not jailbreaking their iPhones, iPads anymore — they are, but the numbers are certainly low compared to last year. According to the post on jailbreak statistics, jailbreaking is down by almost 10% compared to last year.
There are many websites offering fake jailbreak — while Dream Jailbreak didn't pitch or point us to any website, but it was certainly a disappointing end to what seemed like a ray of hope for users who have been anxiously waiting to jailbreak iPhone 5.