Here are some surprising statistics from a Chinese company: Nearly 43% of iOS devices — iPhone, iPad, iPod Touch — in China were jailbroken in September, 2011. The number skyrocketed to an incredible 51% in the next few months, which means one out of two iOS devices were jailbroken. As 2012 winds down, these numbers are steadily declining.
Jailbreaking is down by almost 10% compared to last year. The latest stats spread out by the company reveals that "iPad jailbroken devices stand at 39.8%, while jailbroken iPhones stand at 43.8%."
Over 200 million Android and iOS devices have been circulated in China. Even a minuscule 10% change reflects a huge portion of users moving away from jailbreak.
Umeng, the Chinese mobile company revealing the above facts, also shares interesting insights on iOS jailbreaking in China. Nearly 70% of iPhone 3GS users have jailbroken their devices, followed by iPhone 4 that stands at 48%.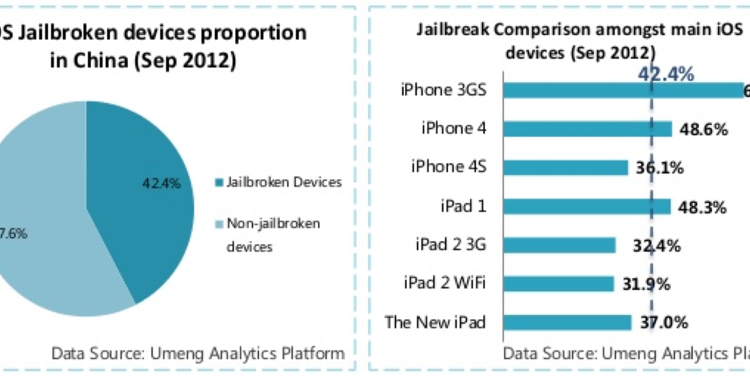 Even 36% of iPhone 4S, when Absinthe was first out, jailbroke the device. That number will further decline, as iPhone 4S now ships with iOS 6 firmware.
Jailbreaking is on the decline for several reasons. First, Apple now accepts local credit cards in the App Store in China, which makes it a lot more easier for iOS users to buy apps. Second, iOS 6 jailbreak is not publicly released for iPhone 5/4S and iPad devices. Looking at the current jailbreaking progress, jailbreaking devices will soon be a thing of the past.
Apple iPhone 5 is not in the graph, as jailbreak for A5 device is still in the works.
Jailbreaking offers an easier way to customize restricted iOS in our own ways. Sure, jailbreaking iPad is not legal, but iPhones have been granted DMCA exemption, which means iPhones can still be jailbroken.