I still remember when I lost all my sms messages from the inbox because of multiple tasking. I know it's weird, I had to change the cell phone for the good.. Yes, I was never able to retrieve those deleted sms messages as I never made a back up of messages.
Fortunately, here is an SIS file (an standard format for most of the mobile phones) softwares that can back up sms messages into an text file for free. With this freeware sis file message backup software you can instantly save all sms messages in text file for future use.
The software named Message mirror works on Nokia and other phones that supports .sis format (including Symbian OS 9.0). You can also hide messages and backup all messages in Text, Html, Csv and XML format.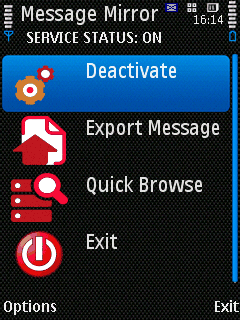 There is also a paid full version of Message mirror, but the free version would suffice your needs.
Message Mirror .sis Supports
LG KS10, Nokia 3250, Nokia 5500, Nokia 5700, Nokia 6110, Nokia 6120, Nokia 6290, Nokia E50, Nokia E60, Nokia E61, Nokia E61i, Nokia E62, Nokia E65, Nokia E70, Nokia E90, Nokia N71, Nokia N73, Nokia N75, Nokia N76, Nokia N77, Nokia N80, Nokia N91, Nokia N93i, Nokia N95, Samsung SGH-i520
If you encounter an application error or installation failure such as certificate error contact the application supplier while setting up Message mirror sis file, then change your mobile phone's date to  2008-01-04.. because this was the date when this backup file was originally posted.