Apple has generously offered Mac OS X Lion for $29.99, and the best part is you can install Lion on five of your Mac machines, legally.
If you have purchased Mac OS X Lion from the Mac App Store, and you want to backup or burn the disk image file of Lion to be on the safer side, then keep reading further.
Before we dig into this whole process of backing up OS X Lion, you'd be better off knowing that Apple does offer a Lion USB — sorry, no Lion DVD yet.
Buy Mac OSX Lion USB From the Apple Store
If you don't want to download OSX Lion from the Mac App Store, worry no more — you can still buy the pre-installed Lion USB from the Apple Store. The only downside of this USB is its price.
You have to pay $69.99 to get the Mac OS X Lion USB. That's a bit too much, really. So, if you are in the look out for a convenient solution to backup — create your own Mac OS X Lion backup, that is — then this step-by-step guide should be helpful.
Find the Location of OS X Lion .DMG Installer File
If you've downloaded the latest version of Mac OS X Lion — for your iMac, MacBook Pro, or MacBook Air — from the Mac App Store, the first thing you are ought to do for backing up a copy of OSX Lion is to find the .DMG file.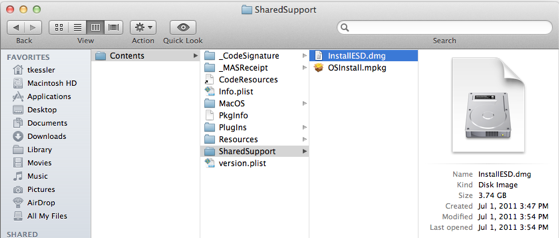 Once you have this file, you can always create a Lion DVD, make a bootable Lion installer on USB. So let's get started:
After you've downloaded Mac OSX Lion from the Mac App Store, do not proceed with the installation.
Go to the Applications folder and hunt for the Install Mac OS X Lion Package. You can also search in Spotlight or Easyfind.
This is the Lion installer — you don't have to burn this file.
Right-click on this installer, select Show Package Contents which pops up a window with the Contents folder.
Now run into the Contents Folder, click on Shared Support folder and locate the installESD.dmg file.
This is the disk image file you have to backup. You can copy this file on a DVD using the Disk Utility, transfer it to your USB, or save it on a separate computer.