Alright, you have only one iTunes account, right? Fair enough. However, there are many reasons why one would go about having two or more iTunes account.
Why do you need two iTunes account?
Firstly, non-US residents may be aware of the fact that some of the apps/movies are only available in the US AppStore. So, in order to download/buy these apps, one should have an American iTunes account.
Also, whenever an app update is released, for people with multiple accounts, there is a need to switch over to the other iTunes account to be able to download and sync updates with your Apple device. In order to eliminate the hectic task of switching accounts manually, Bastian has come up with a simple yet extremely useful script called "TuneSwitch."

Use TuneSwitch For Switching iTunes Account
TuneSwitch does exactly what you need: switch between multiple iTunes account. It creates a keychain entry for maintaing your iTunes account. To switch between accounts, you have to perform a one-time action of entering your iTunes username and password, and TuneSwitch will store the entries locally.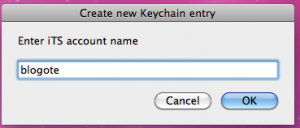 Whenever you want to switch over to the other account, simply select the account name and click "OK." Neat!