Flock is a social web based flash type browser which is powered by Mozilla Firefox. I have been using Flock 2 beta edition which has all the latest FireFox 3 technology from Mozilla. It is still in beta-two but it can be downloaded from here.
Why go with Flock browser? The features in flock browser like blog editor,media view, people's sidebar, easy one click upload image option and friendly smooth browsing with maintenance  and management of Facebook, Flickr, YouTube and other social sites which makes you most organized on the Internet and as it is powered by Mozilla you can be assured of its easy browsing capability.
Moreover you can also use Firefox 3 addons in your Flock browser which makes it as much as powerful as Firefox. Though, there was a addon available to turn Firefox into Flock but now it doesn't work with Firefox 3 browser.
Anyway, here are some of the latest themes introduced by Mozilla group for Flock:
Eco Edition theme – A simple greenish theme which signifies Eco friendly environment. Comes with updated news, content, and media in global matters affecting the planet. Flock also gives away 10% donation to help the environment. Also, there are many more preloaded Eco features in the Flock Eco-Edition browser which are worth trying out.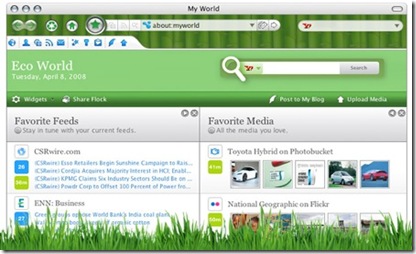 Download flock theme – Eco edition
Gloss Edition theme – Flock team calls the latest theme as Gloss theme which is world's first and only fashion/entertainment browser according to them. The theme is pinkish and seriously not many are in love with the pinky! The reason may be because it is treated as Girl's favorite color. Right? Once again the theme comes with a preloaded daily news feeds about fashion, love and entertainment. Girls grab 'em!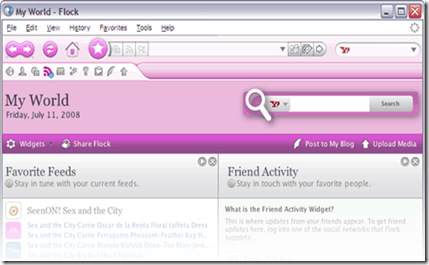 The Gloss theme is based on the current Flock 1.2.4 browser. It is available for Windows, Linux and Mac Os X.